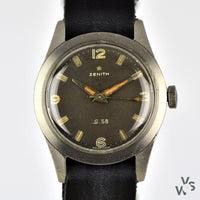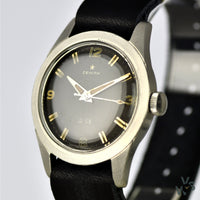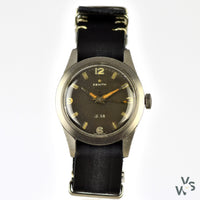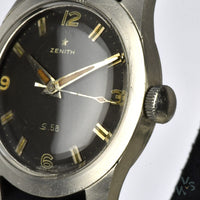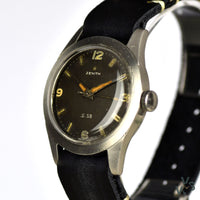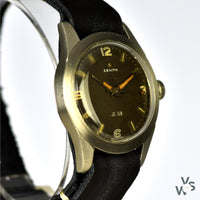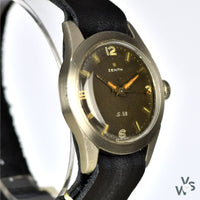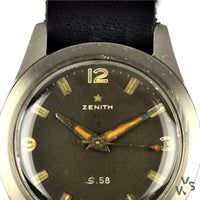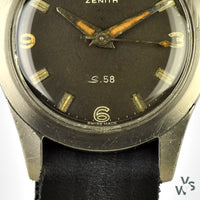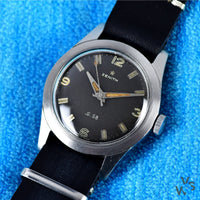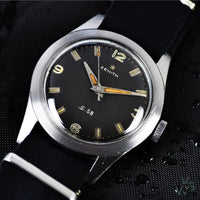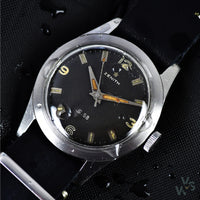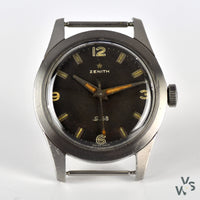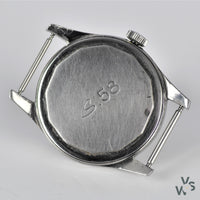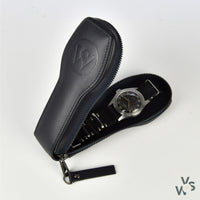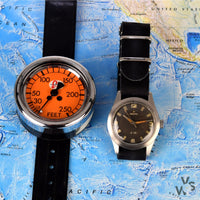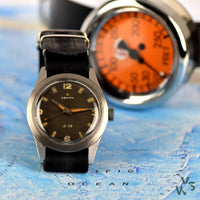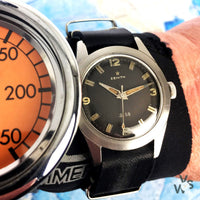 Zenith S.58 Divers Watch - Mark I - c.1958 - Calibre 120 Movement
A very rare and collectable tool watch from the house of Zenith! A 'Mark I' - S.58 divers watch from the very first batch produced in late 1958 or early 1959 according to the movement serial number, 4841xxx, and his is also confirmed by the case number as it falls between 9,430000 and 9,490000. In fact if this information is accurate then our watch is a very early production piece with case number 9,436xxx.
Rumour had it originally that the S.58 name for this great Zenith diver came from the Sikorsky S-58 helicopter originally designed by American aircraft manufacturer Sikorsky as an anti-submarine warfare. However in our view and many others, this was proved wrong and a letter from Zenith archives was published online some years ago, saying.... 
"Dear Sir,
Many thanks for your interest in ZENITH watches.
The collection " S 58 " means S = Super water-resistant up to 150
meters and 58 for the year of launching the model.
So nothing to do with helicopter Sikorsky S 58.
With my best regards.
Marc Roethlisberger
ZENITH INTERNATIONAL SA
Customer Service"
This is obviously more likely and/or.... the S is believed to be a reference to the French word "scaphandre," roughly translating to diving suit, with the 58 representing 1958 and the watch's introduction to Zenith's catalogue. Leading into the 60's and moving through the 60's there was a huge demand for purpose built tool and dive watches and Zenith with their S.58 were early onto the scene along with Rolex & Blancpain to jump on this demand. Blancpain released the first true diver, the Fifty Fathoms, in 1953 and Rolex's Submariner followed in '54. That was about the extent of the market. Omega's Seamaster 300 came in '57 but the S.58 was likely sketched in some form prior.

There are 4 variants or 'Marks' for the S.58 with the present watch being a Mk I as we said earlier. This Mk I case comes in a millimetre thinner than the Mk II S.58 at 7.6mm compared to 8.6mm, thickness measured without the crystal from the highest point of the bezel. This one millimetre change has a fairly significant impact on wrist feel as the case-back is no longer completely flat but, rather, stepped. Aside from wrist feel, viewing the two straight on, you would never notice a difference aside from the script 'Automatic' text on the later dials. Zenith beefed up the model but did not change the case from a two-dimensional point of view: both Mk I and Mk II measure 36.6mm in diameter and 45.5mm lug-to-lug.
What's On Offer
The case is thick, sharp and in pretty wonderful unpolished condition, and this for a tool watch that has likely had many years under its belt is fantastic! There are some minor dings and marks here and there but nothing that detracts from the watch as you can see from the images!
The dial remains fantastic, dark and legible and retains the Zenith name, applied metal star logo and model designation 'S.58' which really adds nice charm and appeal to this watch. The original radium lume on the hands and dial have aged very nicely and has a really attractive tone which draws one's eye, they still glow under UV but don't hold a charge any more. The lack of crown guards reinforces the vintage vibe to this piece with the lugs tapering towards the wrist which means it wears really nice and slim on the wrist, a key attribute to these wonderful period dive watches.
Additional information

Made from

Case: Stainless steel.

Dial: Black.

Crystal: Plexiglass.

Bracelet: Leather Vintage look NATO

Technical specifications

Winding: Manual 

Movement type: Manual Mechanical with Hack feature

Calibre: Zenith 120

Jewels: 18j. 
Waterproof: 150m when new!
Power reserve: 47 hours.

Purchase details

Condition: Excellent overall condition, in full working order.

Model Reference Number: S.58
Date of issue: c.1958

Guarantee: 12 months VWS guarantee

Dimensions

Width: 36.6mm

Lug width: 19mm

Lug height
 (lug to lug): 45.5mm
Wrist size
: Adjustable