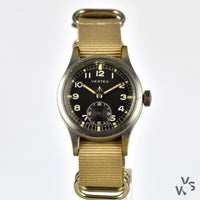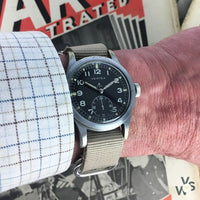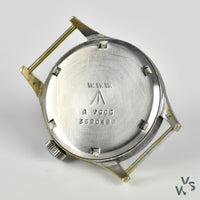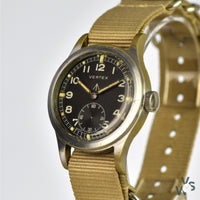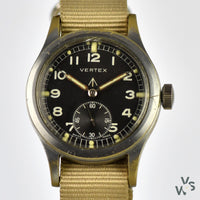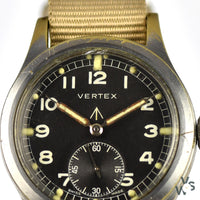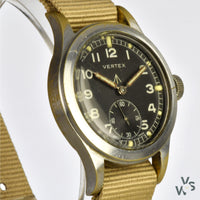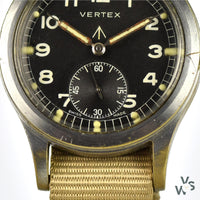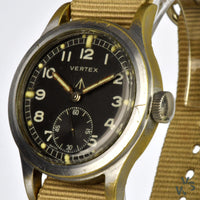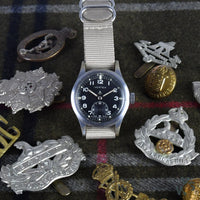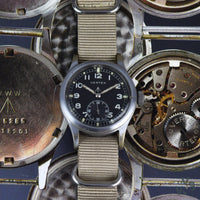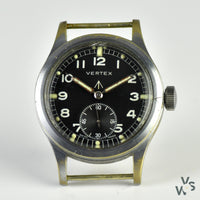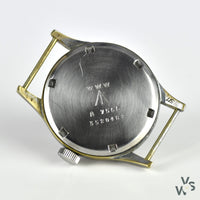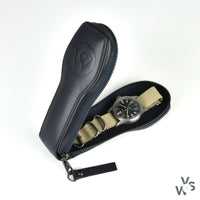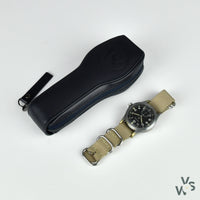 Vertex WWW - A Dirty Dozen Military Issued Wrist Watch - c.1945 - Calibre 59 Movement
A Vertex WWW Dirty Dozen Military Issued Wrist Watch from World War Two!

Of the circa. 145,000 watches delivered towards the end of 1944, Vertex were only around 15,000 of them. This naturally makes them in the minority of the batch, bearing in mind, Record, Omega and Cyma each produced more respectively. To many, Vertex are a little known brand but in the world of vintage watches and especially military watches, they have a great reputation. Vertex were the only one of the twelve makers that were founded in Great Britain in 1916 by Claude Lyons. He was born in London in 1885 and by the age of 17 he had started working in the watch trade. He first set up Dreadnaught Watches in 1906 with a £1000 loan from his father-in-law and had paid him back within the year due to popularity of the brand and the great effort from Claude to establish the name.
In 2015, 100 years since Claude Lyons started the company, his great grandson Don Cochrane re-incorporated the brand and Vertex have since released heritage models that channel earlier Vertex pieces which includes the M100 model which is a modern day reissue of the "Vertex Dirty Dozen". The M100 is still available today.

What's On Offer
The example we have on offer here is a really clean example which is testament to a watch that has seen some of the worst conditions you could throw a watch into. By no means battle scarred, the present watch has a wonderful aged patina to the hands whilst the dial retains its deep black appearance and the Arabic numerals and Vertex logo remain sharp and striking. The outer track finishes the dial off wonderfully with the lume looking tidy on the dial. The case has signs of age but on a watch of this nature, it only further enhances the package and interest as a watch of history with an amazing story.
Additional information
Made from
Case:  Chrome Top
Dial:  Original Black Radium
Crystal: Plexiglass
Bracelet: New Nato Style
Technical specifications
Winding: Manual wind
Movement type: Mechanical
Calibre: Calibre 59
Jewels: 15
Waterproof: When new
Power reserve:
Purchase details
Condition: Incredible 8/10
Model Reference Number: www military 
Date of issue: 1944/45
Guarantee: 12 months VWS
Dimensions
Width (without crown): 35mm
Lug width: 18mm
Lug height (lug to lug) 47mm
Wrist size: Adjustable.