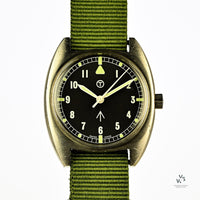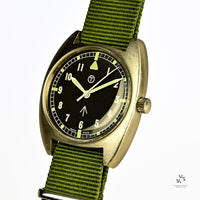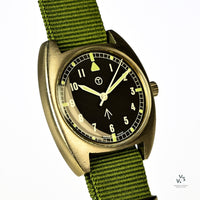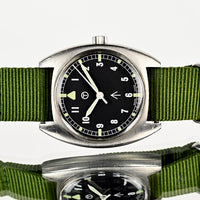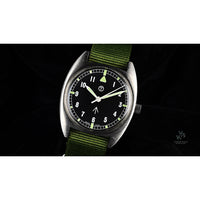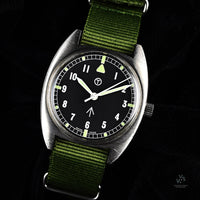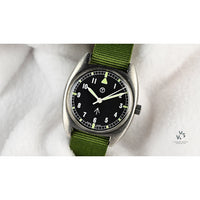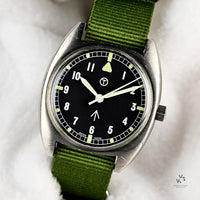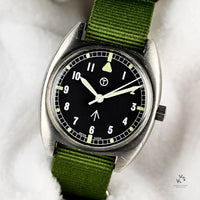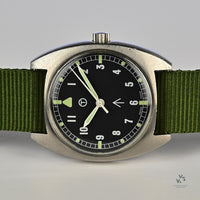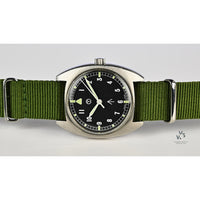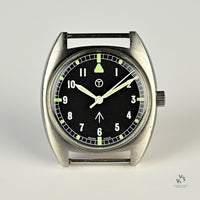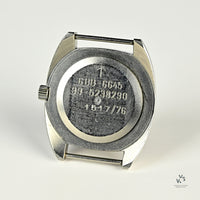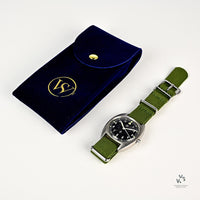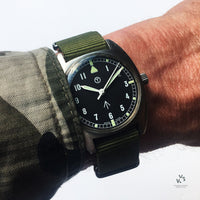 Lost Navi - 6BB (RAF) - Case Back Markings: 6BB-6645 99-5238290 1517/76
A Remarkably Well Preserved Lost Navi 6BB RAF Issued Pilots Watch from 1976 with Original Military Markings
Approximately 2000 pieces of these sterile dial watches were produced, which are of monobloc construction to the tonneau-shaped case and still pose a mystery in horological circles after years of discussion! Most attribute the "Lost Navigator" watches to Hamilton as CWC didn't take over the production of wristwatches for the armed forces until around the '80s. Yet, Hamilton's were used up until around the mid 70's so the "Lost Navy's" were issued between the terms of both manufacturers.
Only issued in 1976, the dials are sterile or anonymous with no brand name under the usual noon position.
What's on Offer
 We are very pleased to be able to offer this rare and very collectable military-issued watch for sale - they don't come around all that often and certainly not in such remarkably well-preserved condition. The black dial has remained rich and bold Arabic numerals are brilliant white and still crisp. The dial also boasts its original tritium lume, denoted by the T circle, and it has aged beautifully to pale vanilla, this corresponds with the hour plots, also luminous and evenly aged. The original sword hands are also in fantastic shape and provide the same luminous quality. The dial is completed by the synonymous military arrow as we expect to see on issued watches like this. The arrow is also engraved on the case back along with the various other reference details and of course the '76' referring to the year it was produced. These watches are very much sought-after by military and horological enthusiasts alike and certainly in such beautiful condition this example will pique the interest of many. 
Additional information

Made from

Case: Stainless steel

Dial: Black dial, Swiss Made 

Crystal: Plexi 

Bracelet: NATO Style

Technical specifications

Winding: Manual

Movement Type: Mechanical hand-wound

Calibre: AS-2160

Jewels: 17j

Waterproof: When New

Power reserve: 50hrs

Purchase details
Condition: Excellent

Model Reference Number: 6BB
Date of issue: 1976

Guarantee: 12 months by VWS

Dimensions

Width: 36 mm

Lug width: 19 mm

Lug height: (lug to lug) 41 mm

Wrist size:  Adjustable