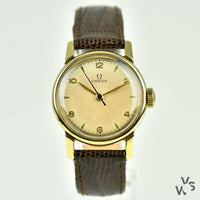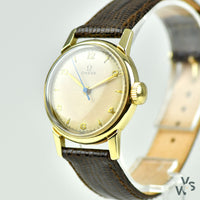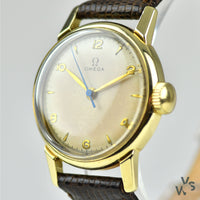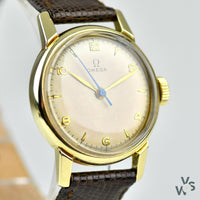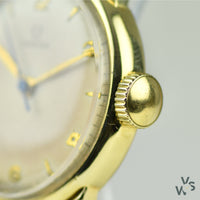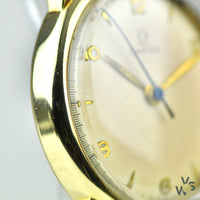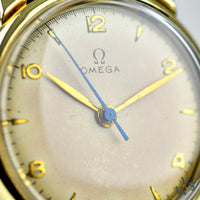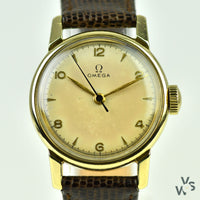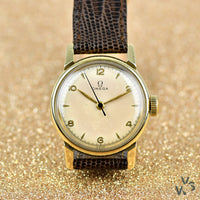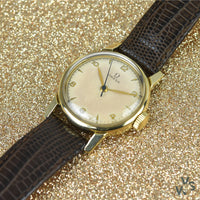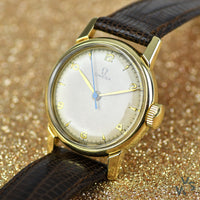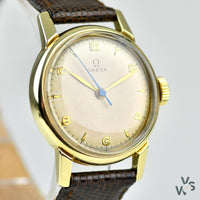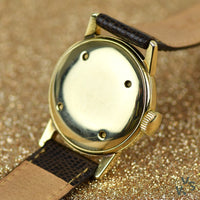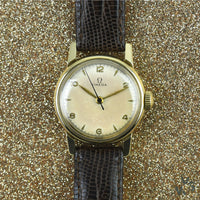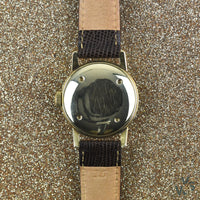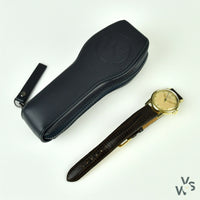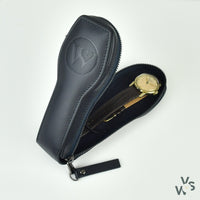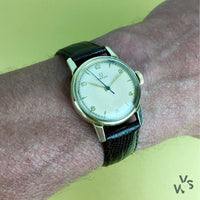 c.1944 Omega 'Medicus' WWII Medic's Wrist watch - S&W 14k Gold Case
WE ARE SORRY BUT THIS WATCH IS NOW SOLD -
IF HOWEVER YOU ARE LOOKING TO BUY OR SELL SOMETHING SIMILAR THEN PLEASE EMAIL sales@vintagewatchspecialist.com or WhatsApp/Call +44 7831 454658. Thanks
c.1944 Omega 'Medicus' WWII Medic's Wrist watch with straight lugs - S&W 14k Gold Case
A first for us at VWS, a rare and highly desirable Omega Medicus! This watch is a piece of history on several fronts, and looks the part too. Stunning rose/tropical patina across the original dial, amazingly sharp case and hands and the original blue tempered steel sweep seconds hand that the watch became famous for. 
Omega's 'Medicus' has a rich provenance on many fronts, not least due to it being Omega's first movement to feature a central seconds hand, allowing for legible and accurate pulse measurement for WWII Field Medics. This particular watch is dated by its serial number to circa 1944, making it a likely candidate for the battlefield. The watch quickly became known as the 'Nurse's watch' for that very reason- reading the sweeping seconds and the chapter ring proved to be a breakthrough for medics on the move in squalid conditions. More on that from Omega's archives here.
The 14k Gold case also tells a tale; its hallmarks reveal 'S&W' and 'OXG'. The former stands for Schwab & Wuischpard; a Swiss family who set up shop in Manhattan in November 1927, who will have manufactured this particular case to Omega's exact specifications in the USA. The latter denotes 'Norman Morris'; an importer of watch movements into the USA. After the Great Kipton Train Wreck of 1891, the US Railroads Chronometer specifications became very strict, and Omega were dissuaded from dealing with them directly due to the extra work implied in complying to these regulations. Due to this, Omega dealt with movement importers and case manufacturers directly, who in turn dealt with US chronometer departments. Read more here.
Thus, two potential (speculative) theories as to the ownership/original commission of this watch arise: either the watch was worn on US railroads as an accurate chronometer, or was commissioned by a US field medic for use in the Second World War.
Judging by its condition, it likely never saw heavy action in either! The dial is absolutely stunning, bearing the original leaf hands in immaculate reflective condition. The dial has warmed and faded into a creamy, pink tone, and is one of the only signs that the watch is anywhere near the age it is. This is accented by the sharp golden hour batons and Art Deco arabic numerals, all in stunning condition. The case back and edges are genuinely jaw-dropping; they reflect like mirrors in the light, with hardly any signs of wear or use to speak of. 
The movement is keeping excellent time, having recently received a full service from our excellent watchmaker.
Additional information

Made from

Case: 14k Solid gold

Dial: Cream, pink, tropical vintage

Crystal: Hesalite/plexiglass

Bracelet: Brown leather strap.

Technical specifications

Winding: Manually wound.

Movement type: Hand wound, central seconds.

Calibre: Omega R17.8SC / AM

Jewels: 15

Waterproof: Originally, yes! We wouldn't count on it nowadays, though.
 
Purchase details

Condition: Excellent, for its age and in full working order. 

Model Reference Number: Medicus
Date of issue: c.1944

Guarantee

Comes with a 12-month VWS guarantee.

Dimensions

Width: 31mm

Lug width: 16mm

Lug height (lug to lug): 38mm

Wrist size: Adjustable