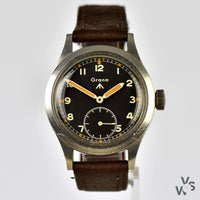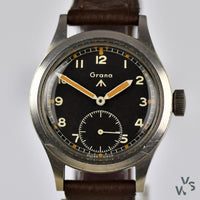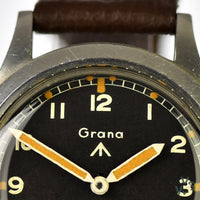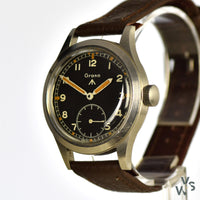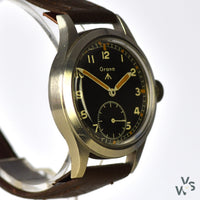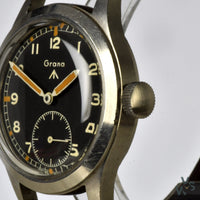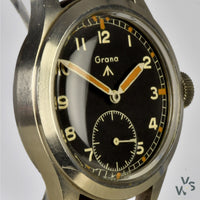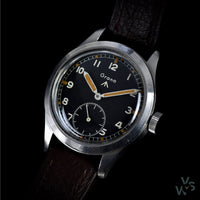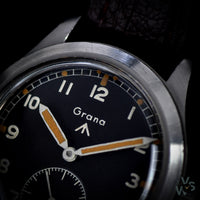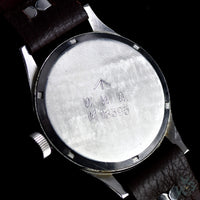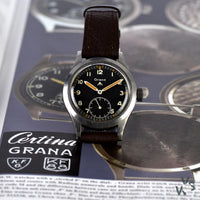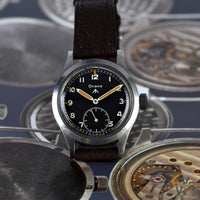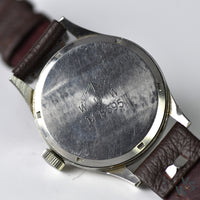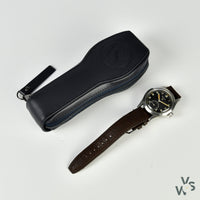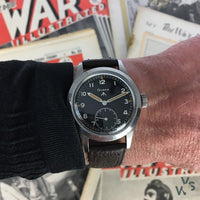 c.1944 - Grana WWW 'Dirty Dozen' - WWII British Army-Issued Military Watch***NOW SOLD***
We Are Sorry But This Watch Is Now Sold -
If However, You Are Looking To Buy Or Sell Something Similar Then Please Email Sales@Vintagewatchspecialist.Com Or Whatsapp/Call +44 7831 454658.
Thanks
c.1944 Here we have the rarest of ALL the twelve - A Grana WWW 'Dirty Dozen' - WWII British Army-Issued Military watch Cal. KF320 and this one is an absolute peach!
The "Dirty Dozen" are infamous within watch collecting and a true delight both on wrist but to appreciate on the eye. Highly sought after and with very few serious collectors amassing the full 12, collecting the full set has become something of a horological adventure not to mention an amazing journey that will yield outstanding results if achieved. On offer we have the Holy Grail of all 12 pieces, the Grana. Often the watch that escapes many collectors of the famed watches or one that is simply too costly to acquire. Each watch was commissioned and manufactured with similar specifications and, as military issues, were hard-wearing, highly legible and water-resistant with stainless steel or nickel plated cases, shatterproof crystal and fixed lug bars. 

The Grana represents such a minority of the total numbers produced, approximately 150,000 watches were made and delivered in 1944 and 1945 with the Grana making up roughly ONLY 1000 – 1500 of the total number! Add into that equation the conditions that faced these watches, you can imagine how few survived of the total number let alone how many of the Grana's still exist in this stunning condition today. Featuring original pencil hands and measuring 35mm, the steel case has such a wonderful presence on ones wrist and of course like the other "Dozen", the Grana is finished off wonderfully with the Broad Arrow.
What's on offer
The dial and in fact you will no doubt agree the whole watch on offer is incredible. The dial remains highly legible and in wonderful order with the lume taking on a nice pumpkin like tone. The stainless steel case is unpolished yet is in extraordinary condition. Grana was part of the Certina watch brand and was founded in 1888 with the Grana brand name first being seen in 1906. Grana is an abbreviation of "Granatus" – the Latin word for Grenchen where the company was founded. The example on offer from the brand presents a rare opportunity to add the grail of all the "Dirty Dozen" to one's collection.
Serviced by John Senior in the last 18 months so running extremely well as you would expect and just fitted with a new old stock glass by John Senior in the last few days as the original was damaged by us!
Additional information
Made from
Case: Steel.
Case back: Screw on. 
Dial: Black.
Crystal: Shatter-proof plexi. 
Bracelet: NATO military-style  

Technical specifications
Winding: Manually wound. 
Movement type: mechanical.
Calibre: KF320 (Kurth Frères)
Jewels: 15j. 
Waterproof: when new!
Purchase details
Condition: Excellent unpolished condition with crisp case edges and original brushing
Model Reference Number: WWW. 
Date of issue: Circa 1944. 
Guarantee

Supplied with a 12-month Vintage Watch Specialist guarantee. 
Dimensions
Width: 35mm.
Lug width: 18mm.
Lug height (lug to lug): 45mm
Wrist size: Adjustable.