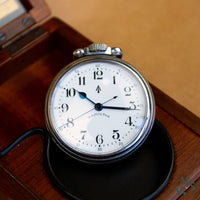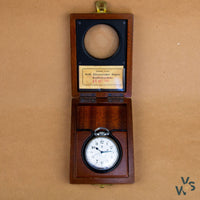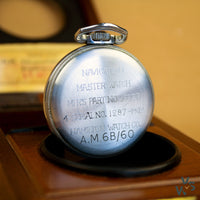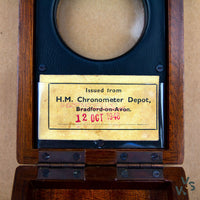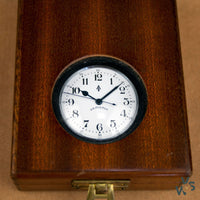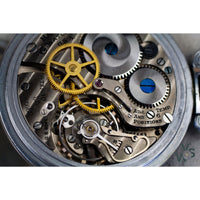 c.1942 British Military Hamilton 3992B Navigation Master Watch w/ Original Fitted Wooden Case ***SOLD***
This Watch Is Now Sold
A very rare c.1942 British Military Hamilton 3992B Navigation Master Watch w/ Original Fitted Wooden Case.
A Hamilton 3992B - A.M.6B/60 Airfield U.S.-made British military pocket watch with full original 12-hour dial and rare military markings on the rear. The case back reads 'NAVIGATION MASTER WATCH', a US part number '3992B', Ministry of Defence broad arrow, and most importantly the A.M.6B/60 marking. This latter marking indicates a watch which was used on airfields and possibly aircraft carriers, to set the crews' watches to the correct time and likely the clocks on-board bombers.
The watches were made c.1942 as the Swiss export routes to The Allies were hampered by the Western Front of WWII. Thus, the British and Canadian naval forces turned to their U.S. allies for production of highly accurate chronometer-compatible pieces.
The far more common variant of this military pocket watch, as testified to in Konrad Knirim's book on British military pieces, was the H.S.3 marked watch. This variant was taken on ships by the Hydrographic Services (H.S) department and was used to time missiles, though was less accurate than the A.M.6B/60 due to its constant mobility, temperature fluctuations and exposure to the elements. 
The A.M.6B/60, however, was predominantly an airfield/aircraft carrier-based watch for more specific use only and was used as a reference point for other watches and clocks to be set against. For this reason, the watch was housed in a fitted wooden storage case and Chronometer Certified or recalibrated at Herstmonceux 12th October 1948 which is handwritten on the card inserted inside the fitted box and under this you can see it originally came from a UK depot at Bradford upon Avon. 
All in all, an exceptional example of a rare version of this Navigation Master Watch, bought directly from a gentleman who has owned and simply displayed in his home study for over 30 years!
Modern or vintage PX's considered, please contact or call me on +44 7831 454658
Model ref: 3992b M.6B/60
Year: 1942
Warranty length: 12 months
Box and papers: Original wooden box, chronometer certificate
Movement type, calibre and jewels: 3992B 22 Jewels
Case: White metal open face case
Dial: British MOD dial
Crystal: Mineral crystal
Width (w/o crown): 68mm