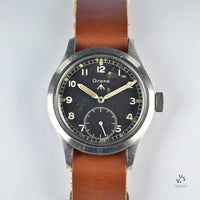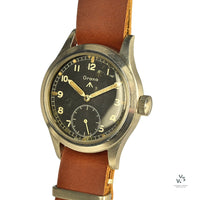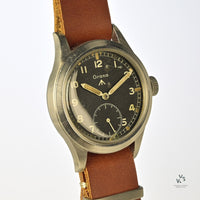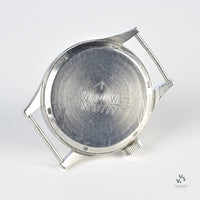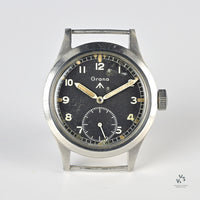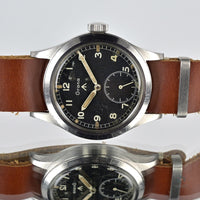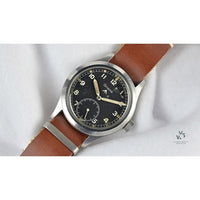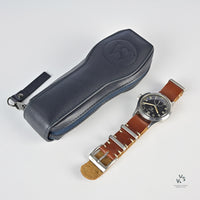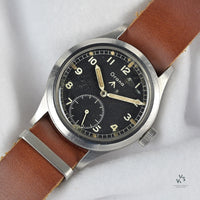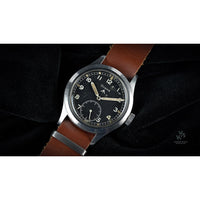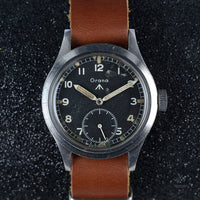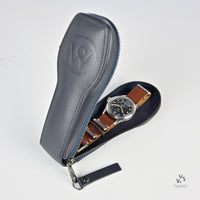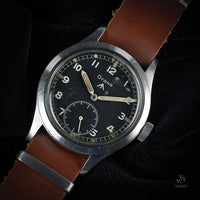 Very Rare Grana Dirty Dozen WWW Soldiers Wristwatch - c.1945***NOW SOLD***
***NOW SOLD***A Very Rare and Very Collectible WWW2 Grana Dirty Dozen Soldier's Watch in Original Condition With Beautifully Aged Lume. This a Very Rare Opportunity To Buy The Rarest Dirty Dozen of Them All!!
Highly sought after and with very few serious collectors amassing the full 12, collecting the complete set of Dirty Dozen Military watches has become something of a horological adventure not to mention an amazing journey that will yield outstanding results if achieved. The elusive Grana is the absolute holy grail for Dirty Dozen collectors, so few were produced in comparison with the other brands (roughly 1000-1500), they are particularly hard to find and when they are discovered they command high prices due to their dwindling numbers- still, if a set is ever to be complete, the Grana must be present.
What's On Offer 
This is a very rare opportunity to buy the rarest of all the Dirty Dozen watches. This watch is in original condition and is still running and keeping good time. The dial does have some marks which are only to be expected from a watch approaching 80 years old and that has survived the trenches of the second world war! Most of the lume has survived very well and aged to a nice warm caramel colour across the hour plots and the original sword hands. The Grana Signature, Military pheon and recessed subdial are all in good shape as is the stainless steel case. The caseback bears the original military engravings which read WWW M18777 and the military pheon is also present again. 
These watches are the holy grail for those that are collecting the Dirty Dozen family and only come on the market on very rare occasions, so we are not expecting it to be around for long. An undeniably charming piece of British military history that would no doubt have countless tales to tell if only it could talk! If this is for you, do not hesitate! 
Additional information

Made from

Case: Stainless Steel

Dial: Black

Crystal: Plexiglas

Bracelet: Leather NATO Style
Technical specifications

Winding: Manual

Movement Type: Mechanical 

Calibre: KF320

Jewels: 15
Waterproof:

Power reserve: 

Purchase details
Condition: Superb

Model Reference: WWW
Date of issue: c.1945

Warranty: 12 Months VWS

Dimensions

Width (without crown): 35mm

Lug width: 18mm

Lug height: (lug to lug)

Wrist size: Adjustable