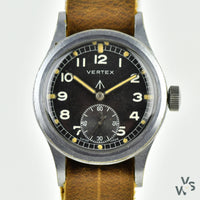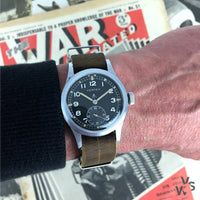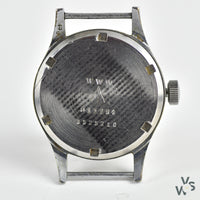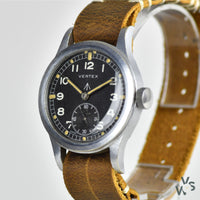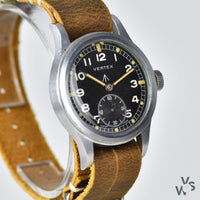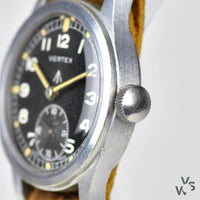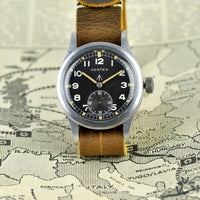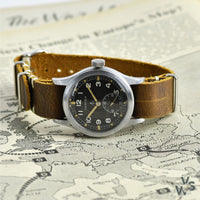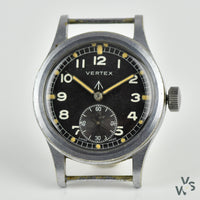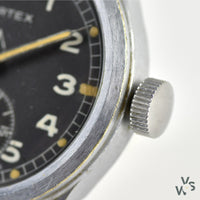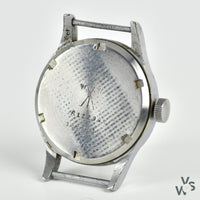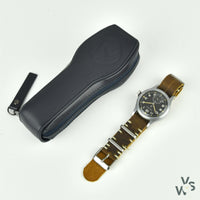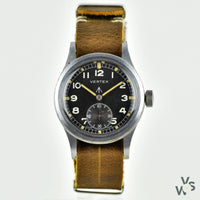 Vertex WWW 'Dirty Dozen' c.1944 World War II Military Watch
WE ARE SORRY BUT THIS WATCH IS NOW SOLD -
IF HOWEVER YOU ARE LOOKING TO BUY OR SELL SOMETHING SIMILAR THEN PLEASE EMAIL sales@vintagewatchspecialist.com or WhatsApp/Call +44 7831 454658.
Thanks
c.1944 Vertex WWW 'Dirty Dozen' - British Ministry of Defence-Issued WWII watch
A beautiful, highly collectable piece of wearable history, this fine Vertex was issued to a British soldier fighting in WWII. The watch is one of 12 'Dirty Dozen' watches, which, for those in the know, are seeing increasingly fewer for sale in this kind of exceptional condition as collectors worldwide seek to complete 'Full sets'. Finding an opportunity to purchase one of these stunningly-preserved beauties is not to be missed. 
As fighting on both the WWII Eastern and Western fronts showed signs of turning in the Allies' favour, many members of the British armed forces were issued with a basic but carefully specified watch, commissioned from 12 Swiss manufacturers by the British Ministry of Defence (MoD). These were ultimately to replace the earlier issued 'ATP' series watches from earlier in the war, and have become even more collectable and desirable than this already beloved collection, thanks to their larger and more sturdy manufacture. 
Though there are some key differences between the dozen, they were produced to tight specifications- designed to be waterproof, have fixed lug bars, numbers and indices, a matte black dial with luminescent hands (originally made of radium, later replaced by the MoD with less radioactive tritium) and an extremely accurate and reliable movement, manually wound. 
As mentioned, the radium fills that were originally applied to the watches eventually caused mild radiation buildup when stored en masse, e.g. for transport/delivery back to the UK for repairs. To rectify this, the Ministry of Defence 'redialed' many watches after an unknown date to house tritium instead of radium. This came later in the war when resources were hard-stretched, and so the redials have a much more 'sterile' look to their hour plots with distinctly lacking patina, and more importantly, their sub-seconds register no longer featured a 'sunken' effect into the dial. If you look closely at 6:00, where the sub-seconds can be read on this Vertex, you can see a faint concentric/radial brushing pattern and a slight sunken appearance. This, together with the rich orange, tobacco/pumpkin patina across the pencil hands and hour plots testified to the originality of the watch. 
What's on offer
For watches to survive a World War, then some 75 years, and end up looking this beautiful and unscathed, is unprecedented even for us. The pencil hands bear a rich creamy patina, and are impressively sharp: no gaps in the lume, as is commonly seen on the Dirty Dozens. Thankfully, the Ministry of Defence didn't get the chance to stick a budget wartime replacement dial on this one, and so its radium plots have turned a stunning tropical patina, only a shade or two darker than the hands. The clean white Arabic numerals have retained their shape but gained a beautiful vintage character thanks to minor speckling. The only dial defect, albeit extremely minor, is the '7' hour numeral missing the tiniest corner. The case too is impressive: original factory metallic brushing with only tiny, infrequent scratches to mention. Luckily, the only significant signs of wear are on the case back, covered by a strap. There is a mild rubbing from a previous strap (perhaps occuring during WWII), and one larger scratch opposite the crown by the case edge. 
Additional information
Made from
Case: Chrome Top
Case back: Screw on. 
Dial: Black
Crystal: Shatter-proof plexi. 
Bracelet: Swedish deer leather NATO (pictured) OR a new NATO fabric strap in your choice of grey, black or khaki. 

Technical specifications
Winding: Manually wound. 
Movement type: Mechanical.
Calibre: Calbre 59
Jewels: 15
Waterproof: When new! (We wouldn't swear by it now.)
Purchase details
Condition: Excellent unpolished condition with crisp case edges. The watch has some signs of wear in accordance with its age. 
Model Reference: WWW. 
Date of issue: 1944/45. 
Guarantee

Supplied with a 12-month Vintage Watch Specialist guarantee. 
Dimensions
Width: 35mm.
Lug width: 18mm.
Lug height (lug to lug): 47mm
Wrist size: Adjustable.