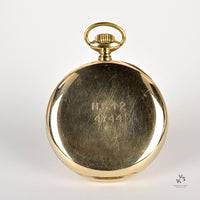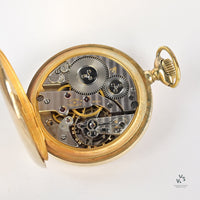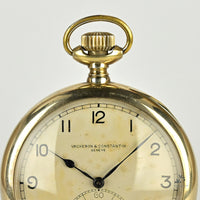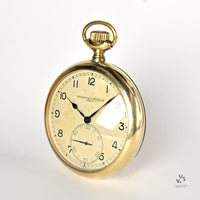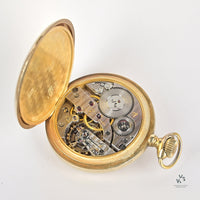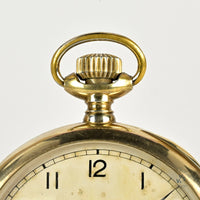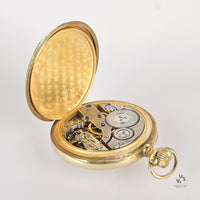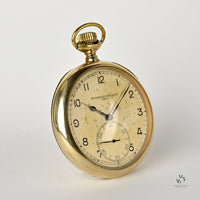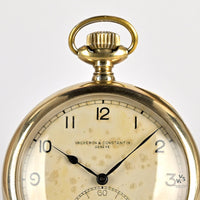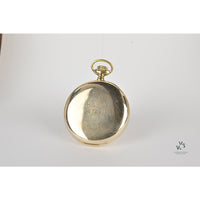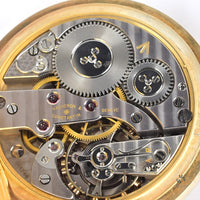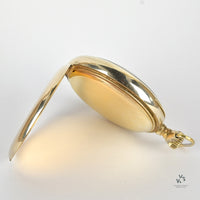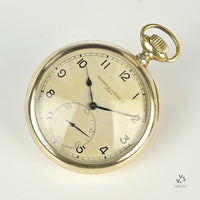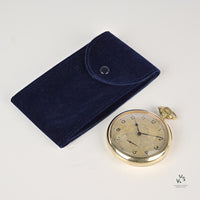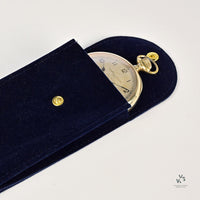 Vacheron & Constantin Genève - Silver Keyless Lever Open Face Deck Watch - c.1944***NOW SOLD***
***NOW SOLD***A Beautiful Vacheron & Constantin, Genève, Silver Hallmarked, Keyless Lever, Open Face Deck Watch Supplied New in 1944 with Extract of Ledger. 
For sailors, accurate time at sea is critical. One hour of time corresponds to 15° of longitude,  so a navigator with an accurate timepiece can work out exactly where he is. Traditional pendulum clocks were incredibly accurate but of no use on a rolling sea and whilst pocket watches weren't particularly affected by the sea, they weren't dependable enough for voyages that could last weeks or months. 
Marine chronometers began development in the early eighteenth century and became more and more accurate over the following years. The 'tool watches' of their day, marine chronometers were heavily built to withstand life at sea and were the most accurate portable timepieces available until the 1940s. 
We applied for and obtained an extract from the ledger from the National Maritime Museum in Greenwich, as you can see illustrated in the photographs, the watch was originally purchased in February 1944 and found its first home on HMS COLOMBO - a World War 1 C-type Light Cruiser which remained in service throughout World War 2 and led a rather colourful life leading many anti-aircraft defence voyages across the Mediterranean until her eventual retirement in 1947. You can read more about  COLOMBO here. 
The watch then found its new abode aboard HMS Sheerness, which, as is illustrated in the ledger, was previously named HMS Green Ranger. I am unable to find any reference to the Sheerness name, however, the Green Ranger was one of six ships in this Class designed in the mid -1930's by Rowland Baker as replacements for the 2000t BELGOL CLASS and were the first Admiralty-designed tankers since the  1917 5000t FAST LEAF CLASS. You can find more information about the Green Ranger here. 
The watch was retired from maritime duties in 1961 when it was bought by Aero Spares Co - we are unsure of the nature of this business, maybe a salvage yard for ships, but we cannot find anything to cement this guess. If you can shed any light on this, we welcome your contribution! 
What's On Offer 
A beautifully preserved, heavy sterling silver deck watch from esteemed watchmakers Vacheron and Constantine which has unusually been gold plated on top of its solid silver case, we have never seen this before so it seems it has been modified in a rather opulent manner at some point, and it looks so good we cannot say whether this was done at the Vacheron Constantin factory at production or later in its life. 
The white dial has a spattering of attractive patina, large suspended Arabic numerals and subsidiary seconds at 6. The case is in absolutely beautiful condition and adds substantial weight to the watch. The HS/I\2 (Hydrographic Service) engraving on the back identifies this piece as a Chronometer watch adjusted for isochronism in five positions, only HS1 being higher of higher rank with detent escapement. All precious metal watch cases made or imported into Switzerland had to carry a responsibility mark or poinçon de maître to easily identify the case maker. The inside of this case is marked with FFBA (Marquee of Fédération des Fabricants de Boîtes Argent ) which denotes silver watch cases made in the cantons of Neuchâtel and Jura.
This type of watch would have been originally sold in fitted wooden boxes for use as the main timekeeper on ships, sadly this has been lost at some point, however, it's a beautiful piece with a significant role in maritime history, and would make a beautiful desk or pocket watch. 
The movement is a 21''', lever escapement, cut bimetallic compensated balance with gold poising screws, index regulator with swan-neck spring and micrometric screw.
Additional information

Made from

Case: Sterling Silver (hallmarked .925)

Dial: Silver

Crystal: Plexiglas

Bracelet: N/A
Technical specifications

Winding: manual

Movement Type: Mechanical 

Calibre: 21''', lever escapement

Jewels: 20j
Waterproof: n/a

Power reserve: 

Purchase details
Condition: Superb

Model Reference: Ships Deck Watch
Date of issue: c.1944

Warranty: 12 Months by VWS

Dimensions

Width (without crown): 60mm

Lug width: n/a

Lug height: (lug to lug) 60mm

Wrist size: n/a