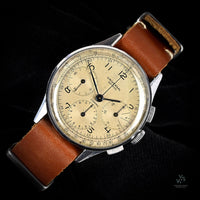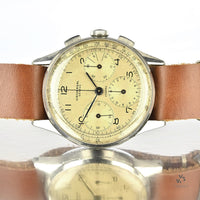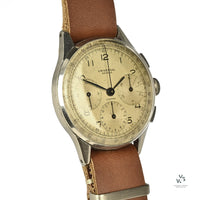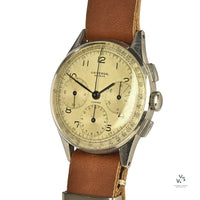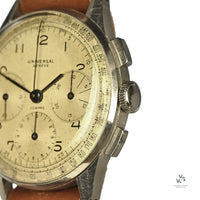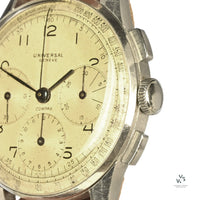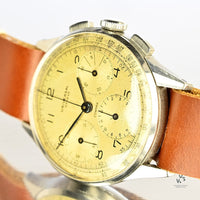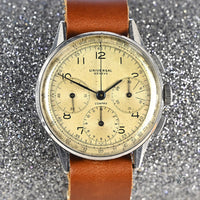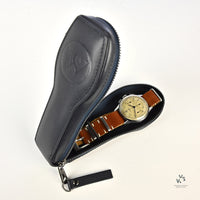 Universal Geneve - Compax - Triple-Register Chronograph - Reference 22427 - c.1940s
A Stunning 1940s Universal Geneve Triple-Register Chronograph - Compax - Ref. 22427 with Caliber 287
It's not just fine wines that get better with age! This vintage Universal Geneve is a stunner to look at, and the photos do not do it justice! Featuring a wide (37mm) stainless steel case, a beautifully tropical patination across the dial, blue tempered steel hands, and an intricate tachymetric chapter ring, it bridges the gap between vintage sports and modern dress watches. UG vintage chronographs have become a hotter collector's target each year, with their rare Cairelli model closing at auction for excesses of £160,000 in 2016!
Universal Geneve, historically, sat firmly in competition with Swiss watchmaking companies Audemars-Piguet, Girard-Perregaux, Rolex, and Patek Philippe for most of the 20th century. The company is known for its expertise and craftsmanship, producing watches in their entirety, including in-house movements. Most famously, Universal Geneve was the first to ever make a chronograph watch in 1917. Though they may stand in Rolex's shadow today, feats such as this, and designs such as this chronograph here, attest to the deservedly solid reputation surrounding the Universal Geneve name.
At 37mm in diameter, the case is larger than most watches that still survive having been made in the 1940s. Thanks to a domed glass and case back, the watch also sits proudly on the wrist, making this a fine wear, when many smaller counterparts have been confined to the past by their slimmer, smaller fit by modern standards. The chronograph, which features sub-registers at 3:00, 6:00 and 9:00, is operated by two pushers at 2:00 and 4:00, which straddle the crown at 3:00.
This is clearly the product of fine craftsmanship: its case edges and bezel slip seamlessly into the lugs, which feature a beautiful bevelling effect across their top. The quality of its production is clearly demonstrated in the watch's condition - made in the 1940s, it still looks like a sturdy watch. Were it not for the beautiful golden, creamy patina across the dial, it'd be hard to know that the watch is 80 years old! The design too sits comfortably among modern companions: a thin bezel makes the dial appear much larger and more visible, making for an elegant watch that doesn't look at all clunky to the eye.
What's on offer

This 1940s Universal Geneve Chronograph has been excellently preserved. The dial exhibits a golden, tobacco tone which contrasts nicely with the bright blue tempered steel hands. There is a light speckling, which is only visible on a microscopic level, but adds a wonderful vintage character from a distance. The watch has received a service, cleaning, and timing to the movement by our watchmaker. The glass, having been lightly polished, is mint. The joints between the case edge, lugs, and case back do show light scratching in places, but this is mostly only seen on the 9:00-side case edge and is only very minor elsewhere. Considering the year of production (circa 1940s), this watch is in fabulous condition. In our eyes, the minor signs of wear and the beautiful colouration add to this watch's appearance if anything. The photos do not do this watch justice, on the wrist it looks great!
Additional information
Made from

Case: Stainless steel
Dial: Three register chronograph
Crystal: Plexiglass

Bracelet: leather NATO style strap
Technical specifications

Winding: Manually wound.

Caliber:  287
Purchase details

Condition: Great condition
Model Reference Number: 22427
Date of manufacture/issue: 1940s

Guarantee

12-month by VWS 
Dimensions

Width: 40mm

Lug width: 37mm
Height, lug to lug: 45mm

Wrist size: Adjustable