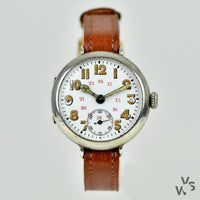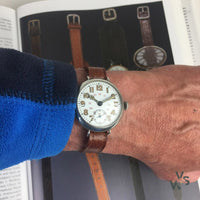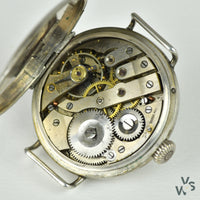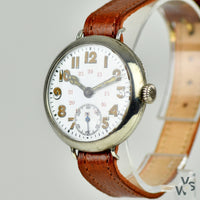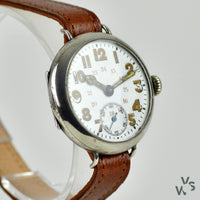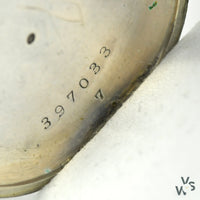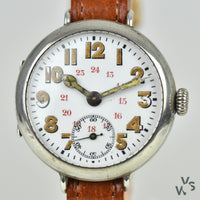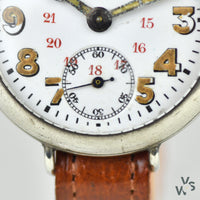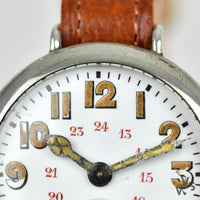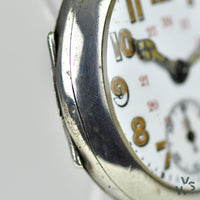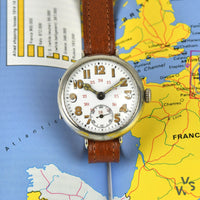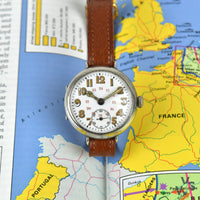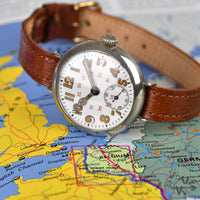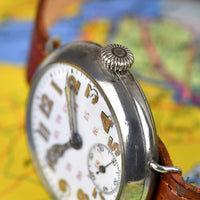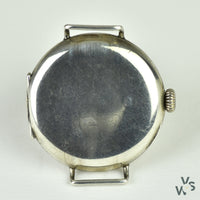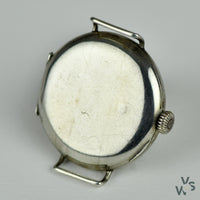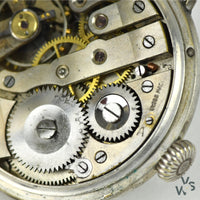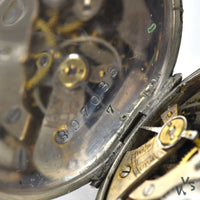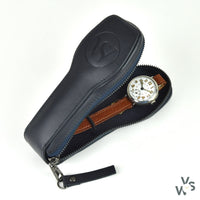 Sterile - 24 Hour Dial Silver Trench Watch - Unbranded and Without Hallmarks - WW1 Period
A beautiful unsigned and without hallmarks, silver Trench Watch with patina-rich 24hr White dial  and cathedral hands and a sub-seconds dial at 6:00
A head-scratcher for us at VWS, we're not quite sure exactly who made this watch. It is very similar in appearance (and age of dial) to 1910s Swiss trench watches, many of which saw import into the UK with solid silver cases and precious porcelain painted dials. The movement is certainly 'Swiss Made' as it is signed as such. Some of these saw service in the war, having been commissioned for use by higher-ranking and earning officers, and quickly showed just how easily porcelain could break (especially in the harsh wartime conditions of the Northern French and Belgian trenches). This dial however is in unscathed condition, when it comes to hairline cracks!

Moving on to later military watches, namely the ATP (Army Trade Pattern) series and the Dirty Dozens, the standard became to have more cost-effective (and hardy) steel or chrome plated watches with metallic dials for military purposes. It features the sub-seconds register at 6:00 with the typical blued steel small seconds hand and 'sunken' effect into the main dial face. 
What's on offer

The large Arabic numerals and cathedral hands are stunning and very legible. There are a few parts of the lume missing on the 3, 9, and 10 numerals, though for us this reminds us of the watch's warm vintage character and the work it has been put through and only adds to its character. The case is in good condition, with light tarnishing but there are very few scratches at all. The watch is sold and ready to wear and comes with a 6-month VWS Guarantee.
Additional information:
Made from
Case: Silver? 
Dial: White
Crystal: Plexi 
Bracelet: leather band 
Technical specifications 
Winding: Manual. 
Movement type: Manual winding. 
Waterproof: No. 
Purchase details
Condition: Good, with signs of light wear. 
Model reference: Trench Watch
Year of issue: 1910s
Guarantee
Sold with 6-month guarantee. 
Dimensions
Width (without crown) 34mm
Height (lug to lug) 38.5mm
Wrist size: Adjustable.