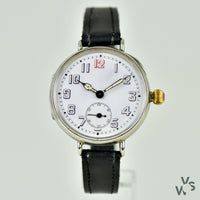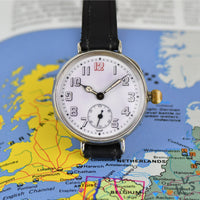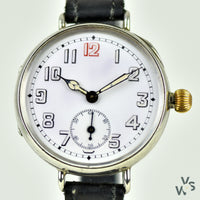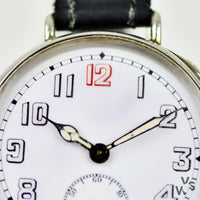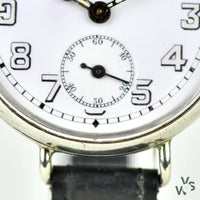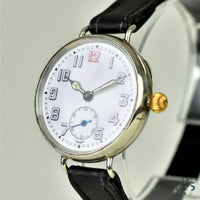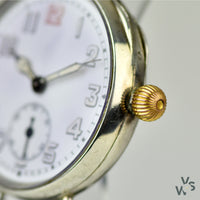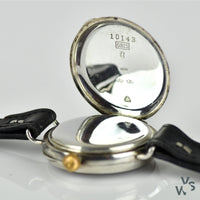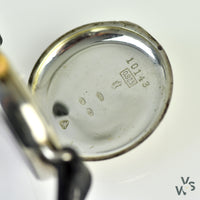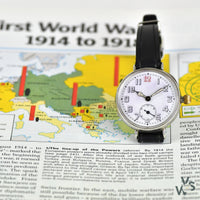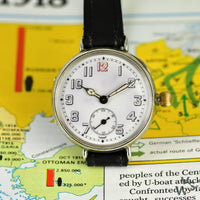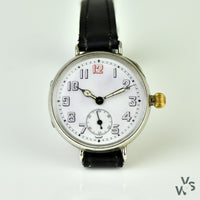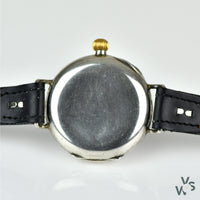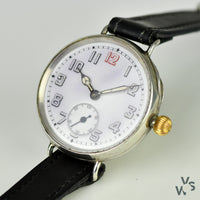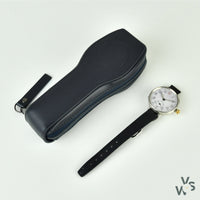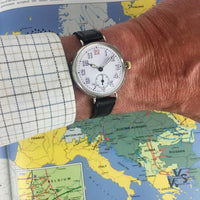 Zenith British Army WWI Silver Trench Watch c.1914/1915 - White dial - gold crown
Rare Zenith silver WWI Military Trench Watch c.1914/1915 
This may have been one of Zenith's first import watches to the UK. Likely commissioned by a private officer during WWI, Zenith set up shop in London in 1914 with the hope of importing and hallmarking their own movements and cases to outfit the British military who could afford such a timepiece. This piece was hallmarked by the Birmingham silver Assay office and can be accurately dated to either 1914 or 1915 (the same hallmark ran for two years), so sits firmly amongst Zenith's earliest British-hallmarked watches. 
As fighting intensified on the Western Front during the Great War, many higher-ranking (and earning) officers on their way to Belgium and France felt a need to equip themselves with a proper wristwatch. Commissioned on a private, individual basis, these watches were largely made in a similar style: a white porcelain dial, solid silver case with wire lugs (fixed for security) and 'Mercedes' hands with a small seconds dial at 6:00. 
This particular example is in stunning condition, and features a few stand-out elements to it. The watch undoubtedly remains close to the traditional trench watch format: the arabic numerals with the red '12', black and white chapter ring around the outer edge and a hinged case, however, the 32.5mm case sets this trench watch apart. Often, these trench-style watches can wear a bit small nowadays. Some of us like this: it's typical of the watchmaking style of that era, however it can often make watches wear a little smaller than we'd like compared to modern standards. Sitting in a notably bigger case, this trench watch, marked 'Z.W. Co (potentially Zenith of Switzerland), combines the best of both worlds with its entirely original historic condition and its larger, more modern-looking size. 
We hope you'll agree the dial is stunning: a crisp white porcelain face with hollow numerals in slight profile, typical of the era, which give the ornate impression that the numbers are 3D. The red '12' was likely a feature requested by military personnel for improved legibility and orientation with the watch face, though we think it now defines these beautiful watches' iconic aesthetic rather than purpose! The sub-seconds dial, which clips the 5, 6, and 7 hour numerals, is slightly sunk into the watch face, and features a stunning reflective blue tempered steel hand (likely also a military legibility feature). 
The glass is hinged, clipping on and off the watch face firmly. The same is applicable to the back, which can be removed in the same fashion. The case is hallmarked with an equilateral triangle- the Birmingham silver assay mark, the .925 sterling silver denotion and a 'P' in old english font which denotes a 1914/1915 watch. 
The ZWC triangle denotes Zenith, a world-famous watch manufacturer with a solid reputation. They set up a 
What's on offer
For a trench watch from the Great War (1914-1918), this is in fantastic condition. It may have seen light refinishing to the hands to make sure their lume inserts look intact, though we believe this to be a historic service that was carried out professionally and in keeping with the watch. It's possible that the hand lumes were damaged in service and repainted at the time, as there is a vintage 'patina' effect to their tone and warmth which suggests age. 
Additional information:
Made from
Case: Sterling .925 Silver
Dial: White ceramic, arabic numerals, red '12'. 
Crystal: Glass 
Bracelet: Black leather strap.
Technical specifications 
Winding: Manual. 
Movement type: Manual winding.
Waterproof: No. 
Purchase details
Condition: Good, with signs of light wear. 
Model reference: Silver trench-style watch
Year of issue: c.1914/1915
Guarantee
Sold with a VWS 12-month guarantee. 
Dimensions
Width (without crown) 32.5mm
Height (lug to lug) 40mm
Wrist size: Adjustable (strap).