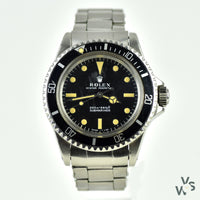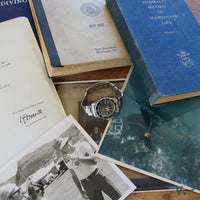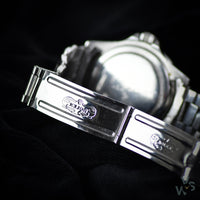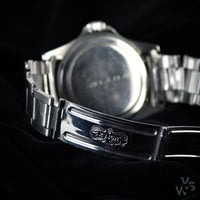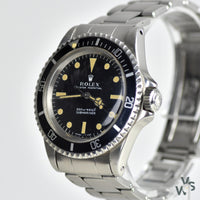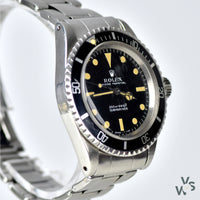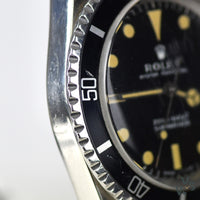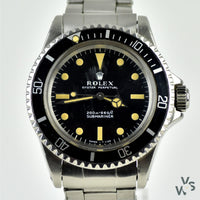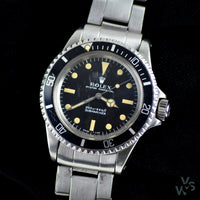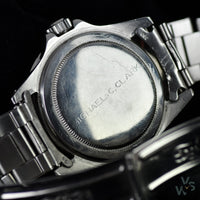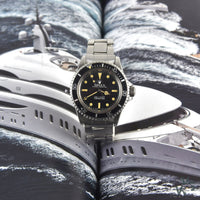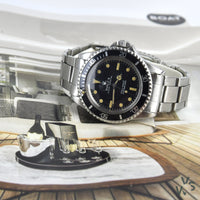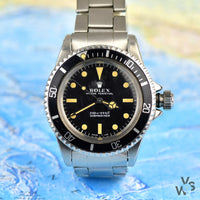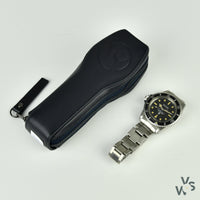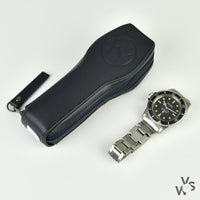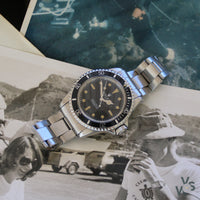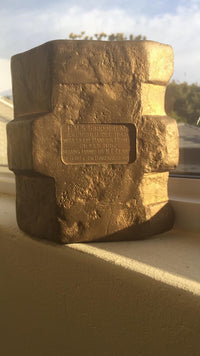 c.1968 - Rolex Submariner Ref. 5513 - Matte dial, a rare metres first dial - Military Naval Divers provenance***NOW SOLD***
We Are Sorry But This Watch Is Now Sold -
If However You Are Looking To Buy Or Sell Something Similar Then Please Email Sales@Vintagewatchspecialist.Com Or Whatsapp/Call +44 7831 454658.
Thanks
c.1968 Rolex Oyster Perpetual Submariner Reference 5513 - Matte dial with metres first. A rare chance to purchase an extremely valuable collector's item. 
This Submariner is an extremely interesting package with a powerful story behind it. Whilst Michael C. Clark, the last owner of the watch, was diving near Gansbaai in South Africa for the S.A. Royal Navy, he discovered a solid piece of iron ship hull. It later resulted that this piece was of HMS Birkenhead, likely the first steel-hulled frigate to see regular service for the British Royal Navy. This ship is incredibly important in maritime history. On 26th February 1852, Birkenhead struck a submerged rock and began to sink. Captain Salmond purportedly ordered calmly to the entire crew: "Women and Children first", as the crew outnumbered capacity for the life rafts. This was the first time these words became common naval precedent, and became known as The Birkenhead Drill. The Birkenhead Drill is arguably most closely associated with the sinking of RMS Titanic in 1912. Together with this watch, a piece of the hull from HMS Birkenhead with an official plaque attached to it will be shipped, bearing the name of the owner of this watch (also engraved on watch back). Please see the final product image in this listing for a photograph of this hull piece.
The Rolex Submariner is not a watch which needs introducing. Arguably one of the most sought-after and beloved timepieces of all time, there is no mistaking them. Introduced in 1954, further popularised by James Bond in 1962, and now a timeless piece of design and horological mastery, the Submariner is a collectable and wearable classic which is here to stay.
Rolex knew they had a winning formula with the Submariner, and put significant time and resources into producing updated versions of it to gauge popularity. This meant cycling through many different model references, dial variants and crown guard designs for the Submariner that we know and love today to come to shape. Many of these variants saw only limited production runs, including this 'Metres-first' matte dial Submariner reference 5513, produced for only two years between 1967 and 1969. Eventually, the 5513 became a much more uniform reference as Rolex standardised all productions between 1969 and 1982, changing the dial to read feet first on the waterproof depth signature. This was again updated in 1982 to a much more modern, and final reference 5513 Rolex, production of which ceased in 1989. This is therefore the final variant of the Submariner 5513 before its production became mainstream and standardised. 
What makes this watch particularly special, however, is its provenance. At VWS, we find watches most valuable when their story is told with it, and this is one of the most complete sets of proof of provenance we've had the fortune of owning. This watch was worn by a South African Navy professional diver (Michael C. Clark), who used the watch during his service as a diver. He has written a detailed letter which he would like to be passed on to the future owner, which details his use of and relationship with the watch from purchase to sale. Mr. Clark valued this watch enormously and cared for it with unparalleled care, a tradition he would like maintained by a future owner. He has included extensive photographs of his life around the watch which are absolutely beautiful to look at. A true time capsule. He purchased this watch in 1969 in Cape Town, South Africa, and has kept it well serviced and cared for since. 
What's on offer
The metres first 5513 is prized partially because of the beautiful matte dial at its core. These are known to age much more desirable than the gloss dial variants which are often prone to crazing, scratching and 'mottling'; this dial is great proof of this fact. It features a beautiful set of mildly patinated hour plots, with rectangular plots at 3, 6, 9 and the famous inverted triangle at 12. The colour on these is stunning in the flesh, showing rich tropical tones with no unevenness or discolouration which distracts from a timeless and deservedly famous design. The crown guards straddle a screw-down Oyster crown at 3. This operates a Caliber 1520 movement which is running well. Please note that you may be able to see a few rub marks on the watch's glass when it turns in the light, these were only lite surface marks. This was the case when the watch was photographed, but these have now been polished out by our watchmaker. This is very easily done with plexiglass, and the watch will be as original as before, so rest assured the glass will not show the signs of wear seen here. N.b. the original owner's name is engraved on the case back, which has seen mild rubbing and so is less visible now. The watch is in great condition, though the lugs do show marking, the bezel has a small scratch at around 9:00 and the bracelet does have a small number of scratches on it and one of the links has been changed for a folded link with no rivet ends but this goes mostly un-noticed on the wrist but we just wanted to make this clear!
We have dated this watch by serial number to around 1968 (case back marked iv.67), but it was purchased in either April or March of 1969.
Additional information

Made from

Case: Stainless steel
Dial: Metres first, matte dial
Crystal: Plexiglass

Bracelet: Stainless Steel Rolex rivet bracelet.

Technical specifications

Winding: Manually wound or automatic (perpetual wrist motion powers watch).

Movement type: Automatic

Calibre: 1520

Jewels: 26
Power reserve: 42 hours

Purchase details

Condition: Excellent condition.

Model Reference Number: 5513
Date of issue: 1968/1969

Guarantee

12-month VWS warranty

Dimensions

Width: 40mm

Lug width: 20mm

Wrist size: Adjustable via link removal/addition.