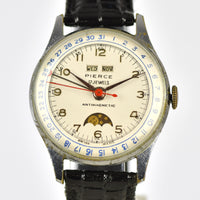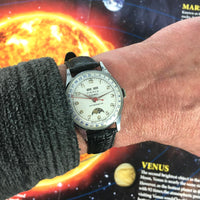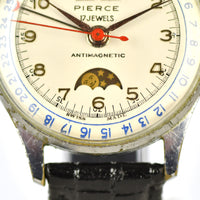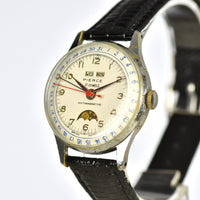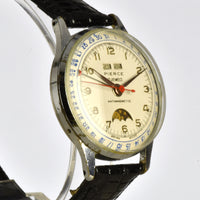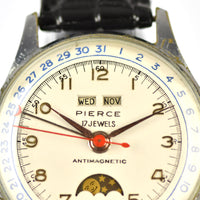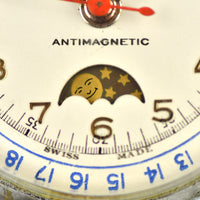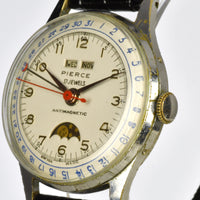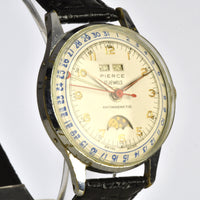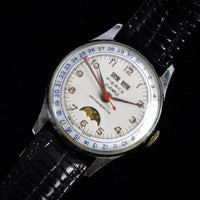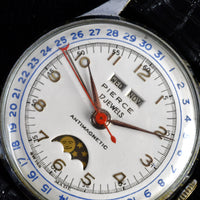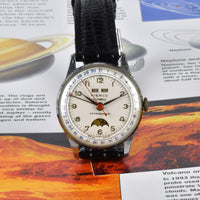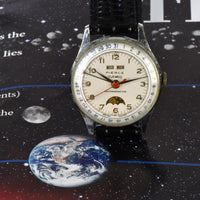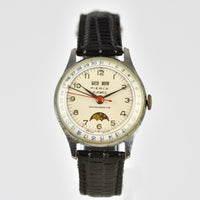 Pierce Triple Calendar Moon Phase - Calibre 103CLD - Chrome Plated Case***NOW SOLD***
***NOW SOLD***
The Pierce Watch Company was founded in Biel by Leon Levy in 1883. The company had gone from strength to strength from its foundation and employed 1500 people by 1910. The Royal Air Force awarded a contract to Pierce to develop and construct of the pilot's watch "Flight Calendar". Pierce was incredibly efficient with their production techniques and unlike watch brands of the period, Pierce developed and manufactured their own watch movements for their timepieces. Whereas many similar-sized brands or even bigger companies sourced movements from notable manufacturers such as Valjoux, Landeron & Venus to name a few.

What's On Offer
The present triple calendar moon phase watch holds inside the Pierce 103CLD movement. The chrome-topped case wraps really nicely around this highly attractive dial. Moon phase dials are highly sought after and generally command a premium over other similar time-only pieces due to the additional complications when manufacturing such a watch but also the additional elegance it brings to the dial and this Pierce certainly fits that category rather well.
The dial is really crisp and one could say it's almost flawless. Very little sign of wear to the dial and it remains highly legible with wonderful flashes of colour with the outer second's track in a vibrant shade of blue. The dial applications also remain sharp and eye-catching which gives this watch further desirability. The case shows more signs of wear than the dial but nothing that indicates a lack of care during previous ownership and the present watch would be a wonderful addition to anyone's collection with plenty of years of life yet to be enjoyed.
Additional information

Made from
Case: C
hrome plated.
Dial: Triple calendar with moon phase. 
Crystal: 
Acrylic.
Bracelet
: Vintage leather strap
Technical specifications
Winding
: Manual
Calibre:
103CLD 
Purchase details

Condition
: Very good, full working order.

Guarantee
Comes with a 3-month VWS guarantee.