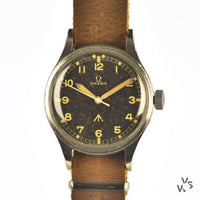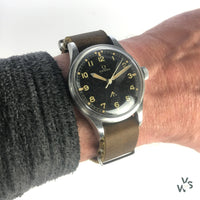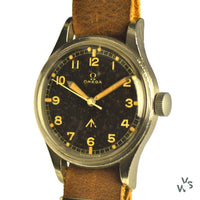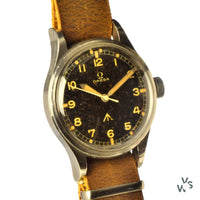 Omega - Ref: 2777-1 SC - A 1953 Thin Arrow - Military Issued 6645 101000 6B/542 - 2787/53***NOW SOLD***
We Are Sorry But This Watch Is Now Sold - If However, You Are Looking To Buy Or Sell Something Similar Then Please Email Sales@Vintagewatchspecialist.Com Or Whatsapp/Call +44 7831 454658. Thanks
An Incredibly Handsome Omega 53 Thin Arrow - Caseback Reference: 6645 101000 6B/542 2787/53, Caliber 283. A rare find in such good condition and being a Thin Arrow dial, with an attractive patina to the dial. Very Collectible! 
In 1952, as the Cold war was intensifying across the globe, the Royal Air Force (RAF) commissioned around 5,900 pilot's watches for British military service. Housed in an anti-magnetic soft iron core, the watch became rare due to its limited production run, and rarer still for the fact that it was one of the very few chronometer-rated watches at the time, powered by the Caliber 283 shockproof movement. This makes the 53 'Thin Arrow' one of the only British military chronometers, and certainly one of the earliest. 
Soon after the watch's release in May 1953, it was discovered that the original luminescent radium dials were unsafe when stored in large numbers: they were radioactive, after all! It was decided that the original radium dials (denoted here by the MoD 'Thin Arrow') would be replaced by safer tritium dials, with a 'Fat Arrow' to mark the newly lumed dial. We're therefore very grateful to be in possession of a thin arrow dial watch, which hasn't been tarnished by time or decay and escaped the original batch that was re-dialed by the MoD.
An initial production run of around 5,900 means that the number of watches that house the original dial, as this one does, is incredibly small, making this a watch of considerable rarity. Estimates range from fewer than 100 to a few hundred, but one thing's for sure: there aren't many of these that survived and of those that have, there certainly won't be many in such remarkable condition. 
What's On Offer 
The black dial on this Omega 53 has taken on a really beautiful peppering of patina which is evenly dispersed quite by chance and gives this watch so much charisma. The thick sword hands boast lume that has aged into a nice caramel hue as have the lumed hour markers. The (originally) white Arabic numerals have become slightly buttery in colour but remain crisp for the most part with just the 4 being slightly etched away – any such nuances on a watch of this age are to be expected and only add to its charm rather than take anything away. The minute rail track is still perfectly visible as is the Omega signature and arrow marking, completing a striking dial that will have any military enthusiast drooling. The case and lugs are in good shape and with such generous dimensions (37mm) for a watch of this age, it would still wear well on the wrist, even by today's size standards. This watch won't be around for long,  a military piece of this pedigree will be snapped up in no time, and deservedly so, these watches were made to be worn!
Additional information

Made from

Case: Stainless Steel

Dial: Black

Crystal: Plexiglass

Bracelet: NATO 

Technical specifications

Winding: Manual

Movement Type: Mechanical

Caliber: 283

Jewels: 17

Waterproof: When new
Power reserve: 45hrs

Purchase details
Condition: Excellent

Model Reference Number: 2777-1 SC
Date of issue: 1953

Guarantee: 12 Months by VWS

Dimensions

Width: 37mm

Lug width: 18mm

Lug height: (lug to lug) 47mm

Wrist size:  Adjustable