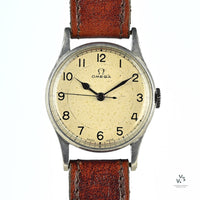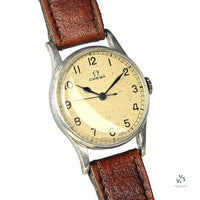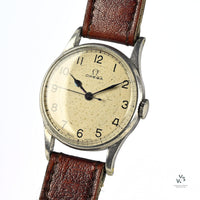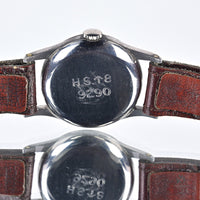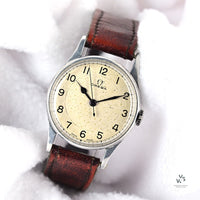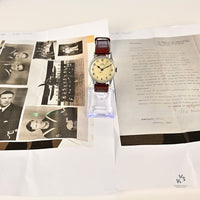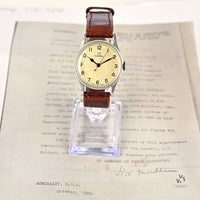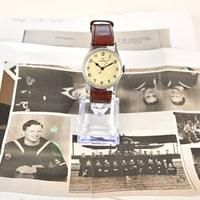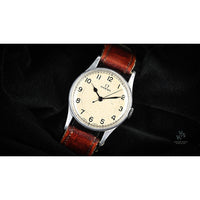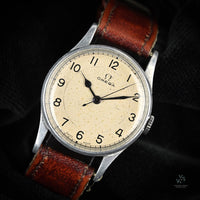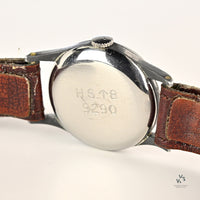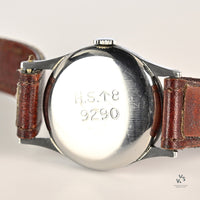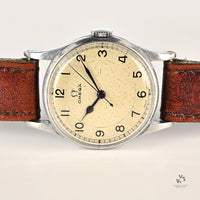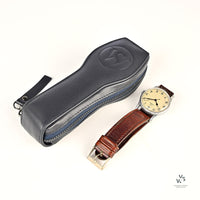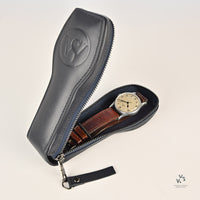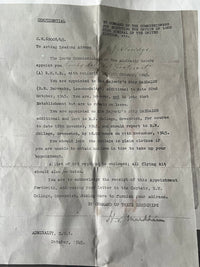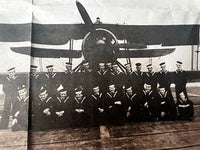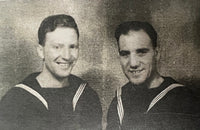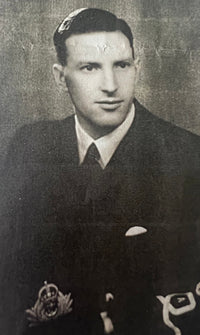 Omega HS8 (Hydrographic Service) Military Pilots Watch - c.1940s with Provenance
A Rare and Much Sought After Omega HS8 Military Pilots Watch in Original Condition with Original Military Engravings
This rare Omega HS8 ( Hydrographic Survey - 8 refers to a wristwatch) men's watch is a unique piece of British military history. Issued to Fighter Pilots and Navigators during the Second World War, the sparse yet practical timepiece has a high-quality manual-winding chronometer-accurate movement that allowed pilots to calculate the position of their aircraft in the sky.
What's On Offer 
This watch was originally issued to A.J. Claridge - a serviceman during WW2. We have a letter addressing him as 'Acting Leading Airman' which is dated to October 1945 and requests his appointment to HMS DAEDALUS but to report to RN College in Greenwich on loan. This letter would have been accompanied by a list of kit he was required to take with him which more than likely included this watch!  We are working on finding out a little more about him and will certainly add further information here when we can. 
Arguably the most interesting feature is the military markings on the rear of the case denoting its use as a Royal Navy's Fleet Air Arm - Issued Hydrographic Survey watch; this watch was likely used during reconnaissance and ordinance of enemy areas during the Second World War. The case of the watch was purpose-made from an aluminium, copper, magnesium, and manganese alloy called 'Duralumin' with a matte finish, designed to prevent distracting glare from the sun if the watch was worn in the cockpit of a plane. 
The off-white dial boasts distinctive blue-tempered steel hands, and on the back of the case, you'll find a military arrow or 'Pheon' elegantly engraved with the Military issue reference numbers which read HS /I\ 8 9290. The dial has aged nicely with a fairly even freckling of attractive patina which gives it that beautiful individuality you only find in vintage watches. There is a perfectly formed central circle which has been left there by the hand rotating around the dial - these things do invariably happen with vintage watches and especially military watches which have endured many years and all manner of tough conditions. These nuances also very much add to the character of the watch - you will never find another exactly the same. 
This watch is still very much wearable, tool watches like this are made of strong stuff and look great on the wrist. A fantastic watch which would make a more than worthy addition to any collection. 
Additional information

Made from

Case: Steel and Duralumin

Dial: White

Crystal: Plexiglas

Bracelet: NATO style
Technical specifications

Winding: Manual

Movement Type: Mechanical

Calibre: 30TC SC

Jewels: 16
Waterproof:

Power reserve: 44hrs

Purchase details
Condition: Excellent

Model Reference: HS8 
Date of issue: c.1940s

Warranty: 12 Months VWS

Dimensions

Width (without crown): 33mm

Lug width: 18mm

Lug height: (lug to lug)43mm

Wrist size: Adjustable