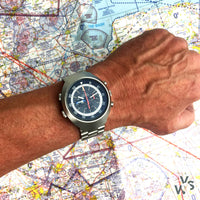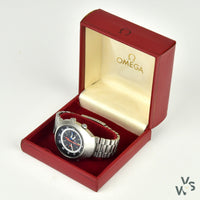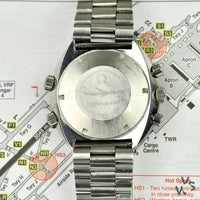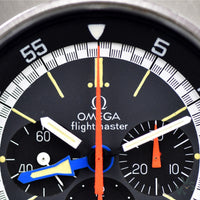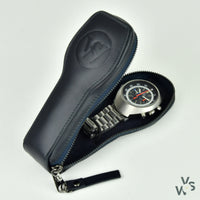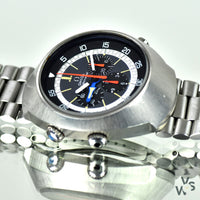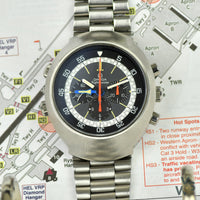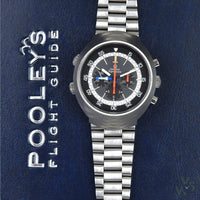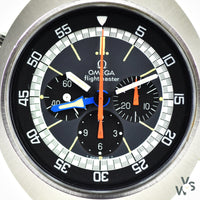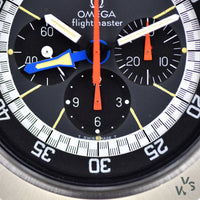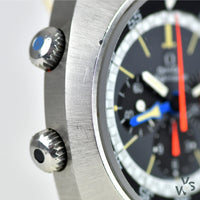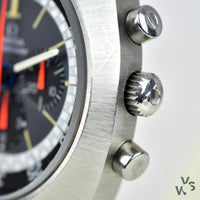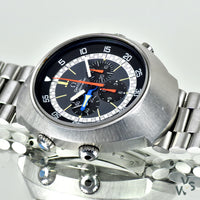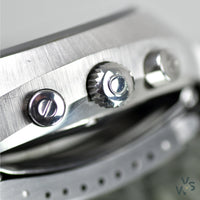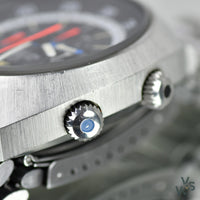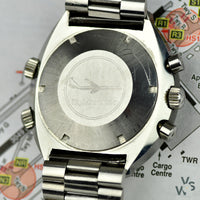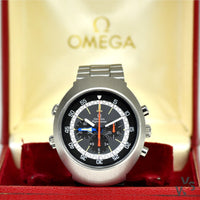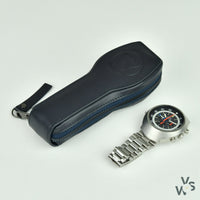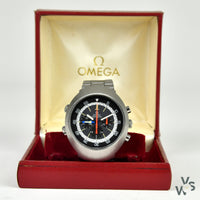 Omega Flightmaster Chronograph GMT - 145.026 Cal. 911 c.1970 - Black Dial
Now sold! If you'd like to register interest in either buying or selling a comparable piece, please contact us.
Vintage Omega Flightmaster Chronograph GMT Watch -  Ref. 145.026 Caliber 911- c.1970.
See our blog piece on these watches here.
This chunky Omega Flightmaster Gents' vintage wristwatch (model reference no. 145.026 dates to, c.1970) has a charcoal grey dial with vivid orange and blue chronograph/GMT hands. First produced in 1969, The Flightmaster was Omega's first Chronograph GMT and came at the height of global interest in aviation as Neil Armstrong and Buzz Aldrin successfully completed moonwalks during the Apollo 11 mission. This was a watch worn on official NASA/Soyuz missions, with American Astronauts and Russian Cosmonauts relying on their accuracy and functionality in the harshest of conditions. It has also been reported that most senior crew members aboard the British Airways Concorde fleet wore this watch (source).
There were three variations of the Flightmaster: the 145.013 which was produced with a caliber 911 movement, a domed glass, and a green/black day/night indicator at the 9:00 sub-register. The later iterations of the Flightmaster bore references 145.026 (the watch pictured here) and 145.036 and housed the 911 movement, along with a slightly prouder case than the earlier version. We're currently (July 2020) lucky enough to be in possession of all 3 iterations! 

The main dial is a standard chronograph with three sub dials displaying constant seconds and registers for recording minutes and hours. The elegantly curved stainless steel case has colour coded crowns to the left side for adjusting the secondary hour hand, along with rotating the inner bezel, which can also be used to measure time elapsed by lining the triangular marker up with either the minute or either one of the hour hands. The charcoal grey of the dial is still razor clear, in part thanks to the great condition of the glass, but has been brought to life by a slow, even ageing process which has produced a deep, rich crema to the hands. The striking orange chronograph hands contrast with this golden colour beautifully, and lend the watch depth of character.

Featuring no fewer than 5 crowns/pushers and 7 hands all brightly coloured, the dial on this watch is timeless on the eyes. Despite its substantial size and robust appearance, the Flightmaster Chronograph is extremely comfortable to wear, due to the ergonomics of the case, a style that Omega refers to as the 'pilot line.' Cut from a single block of Swedish stainless steel, the upper case was pressed and tempered sixteen times before assuming its unique elliptical shape, designed to fit the contours of the wrist like a second skin. This watch stands slightly prouder on the wrist than earlier iterations, thanks to its chunkier case which really makes it 'stand out' in more than one sense. 
The Flightmaster also has a 12-hour GMT complication, with the hand moving independently and set through the auxiliary crown, located at 10 o'clock on the case. The case back features a crisply engraved DC-8 super 61 Jet aeroplane along with the word 'Flightmaster' and the instantly recognisable Omega symbol.
This watch is in remarkable condition, showing only minor marking on the case back, and any sign of wear/use on the face or case front are difficult to spot by eye. It has clearly been cared for very well by its owner since it was produced in 1970.

What's on offer:
This watch is sold in a vintage red official Omega box, and will also be supplied with a Vintage Watch Specialist leather pouch, as per our photos.  
The watch is an all original and honest example of the model, with the original Omega unpolished case (sharp edges and crisp sunburst finish.) 
Additional information

Made from

Case: Stainless steel. 

Crown: Signed Omega
Dial: Charcoal grey.
Crystal: Mineral glass. 
Bracelet: Original Omega 1162 steel linked bracelet with no. 172 end pieces and folding clasp. 

Technical specifications

Winding: Manually wound. 

Movement type: Mechanical.
Calibre: 911.
Jewels: 17. 
Waterproof: 6 atmospheres when new. 
Power reserve: 44 hours


Purchase details


Condition: Excellent overall condition.
Model Reference Number: 145.026
Date of issue: c.1970.
Guarantee
Supplied with a 12-month Vintage Watch Specialist guarantee. 

Dimensions

Width: 43mm.

Lug width: 22 mm.
Lug height (lug to lug): 52mm
Wrist size: Adjustable.