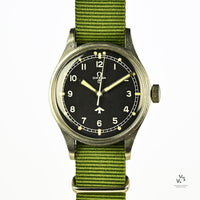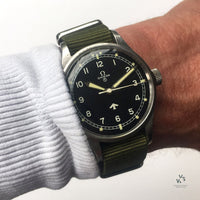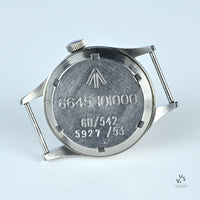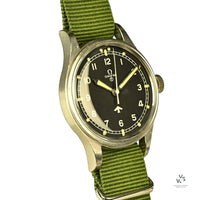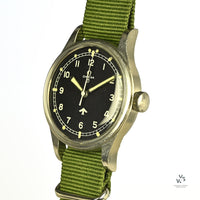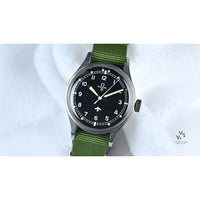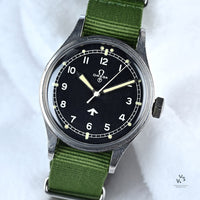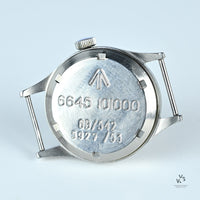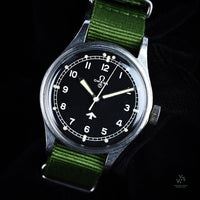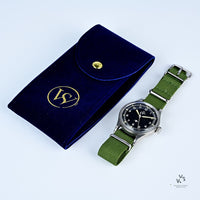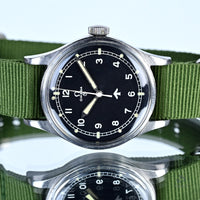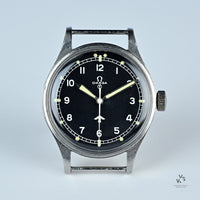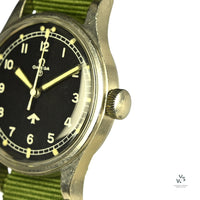 Omega 1953 'Fat Arrow' RAF-Issued Pilot's watch - 1953
A Very Well Preserved Omega 53 Fat Arrow in Fantastic Condition with Original Military Engravings and Nicely Aged Lume, 1953
In 1952 the British Air Ministry contracted their longest-standing London watch supplier, Goldsmiths & Silversmiths Ltd, for an order of 5900 wristwatches. They in turn contacted Omega to manufacture the watches to the exact specification set out by the Air Ministry. The order was received by Omega in June 1952 and the watches were delivered in May 1953. Part of the requirements were that the watches needed to operate in demanding conditions, these watches were required to be waterproof, shockproof and antimagnetic to ensure the watch didn't interfere with the instruments in the aircraft during crucial operations. 
What's on Offer
This watch came to us from the original owner's daughter who wrote us a beautiful letter to accompany the watch. Her father was born in 1928 in Leeds, he joined the navy at 15 in 1943 after his older brother joined the army, unwillingly to be the only child in the house with rather strict parents. 
He started his naval career as a stoker - a sailor who specialized. in engine-room duties and sailed on numerous ships including: HMS Sepaph, HMS Anchoron, HMS Tabard, HMS Aeneas, HMS Dolphin and HMS Ardent. 
At some point he swapped his naval military watch with this RAF pilots watch, which he obviously preferred even though he loved his life at sea and was an active member of the Submarines Association helping to set up the RNA in Nottingham. 
Sadly in his later years, he suffered from dementia and whilst in hospital there were some endearing and comical moments for his family, including the time he asked his daughters to head to the ships 'mess' to get him a drink, thinking he was onboard a ship. 
We love this kind of tales and pieces of provenance that accompany watches, we always say every watch has a tale to tell, but so rarely get the chance to hear them! 
This is a wonderful example of the Omega 53 Fat Arrow - the dial is in fantastic condition and exudes simplicity and clarity. Bold white Arabic numerals adorn its surface, complemented by luminescent hour markers and hands for enhanced legibility in low-light situations which have aged nicely and present a beautiful pale lemon colour. A scratch-resistant sapphire crystal protects the dial from everyday wear and tear while ensuring optimal visibility. One of its most distinctive features is the "Fat Arrow" symbol on its dial – an iconic design element that has become synonymous with Omega's military watches. Originally used by the British Ministry of Defense during World War II, this symbol denoted government property and was prominently displayed on military timepieces. This watch displays its original military engravings on the case back which also include the military arrow. This watch is in fantastic condition, it's hard to imagine that it is over 70 years old! With its rich history and meticulous design, the Omega 53 Fat Arrow continues to captivate watch enthusiasts worldwide, offering a glimpse into an era when form met function seamlessly. As number of these watches dwindles, they become more and more collectable and especially in such exemplary condition. Don't wait around on this one! 

Additional information:
Made from
Case: Stainless steel
Dial: Black 
Crystal: Acrylic 
Bracelet: NATO Style
Technical specifications 
Winding: Manual
Movement Type: Mechanical
Calibre: 283
Jewels: 17
Purchase details
Condition: Excellent
Model reference number: 
Date / Year of issue: 1953
Warranty: 12 months VWS
 Dimensions
Width (without crown): 37mm
Height (lug to lug): 48mm
Lug width: 18mm
Wrist size: Adjustable