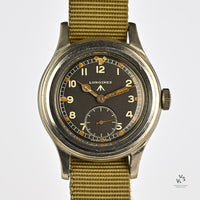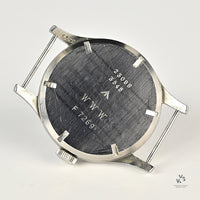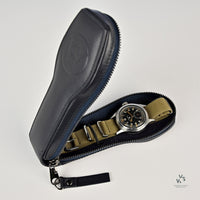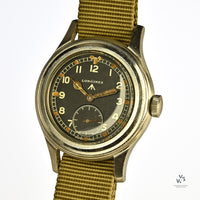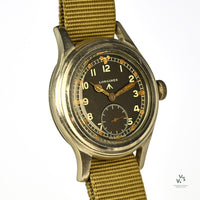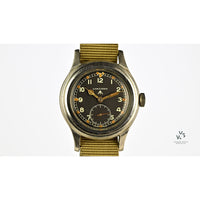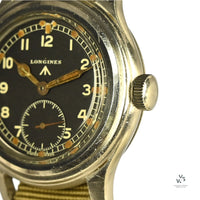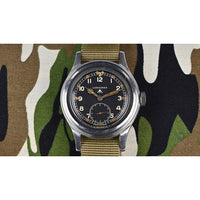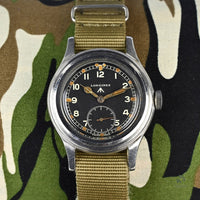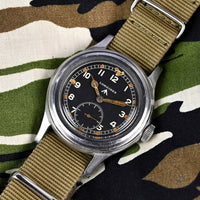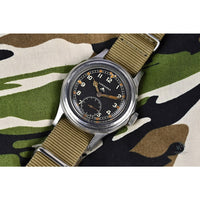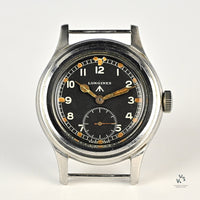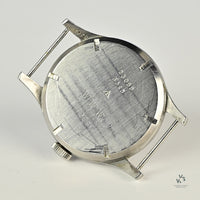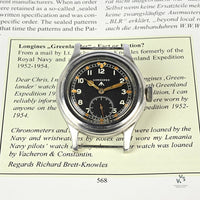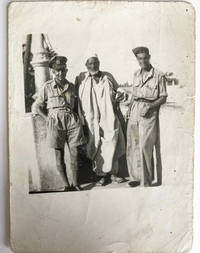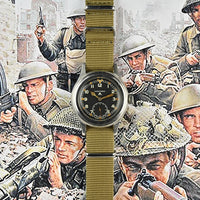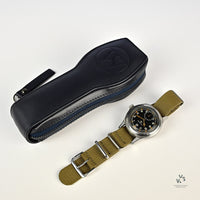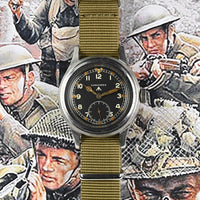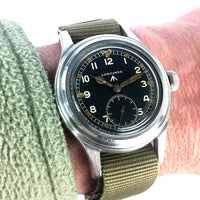 Longines - WWW Issued Military Dirty Dozen Watch - Cal-12.68Z - Circa.1944
A Superb Example of the Iconic Longines 'Greenlander' WWW 'Dirty Dozen' World War II Military Wrist Watch - Matching Lug Numbers and Provenance!
At the end of the Second World War, many members of the British armed forces were issued with a basic but carefully specified watch, commissioned from one of 12 Swiss manufacturers by the British Ministry of supply. These were ultimately to replace the earlier issued "ATP' watches from the beginning of the war.
During 1944 and 1945, twelve watchmakers (Buren, Cyma, Eterna, Grana, JLC, Lemania, Longines, IWC, Omega, Record, Timor, and Vertex) produced a total of approximately 150,000 of these almost identical timepieces.
As these watches became highly sought after by collectors over the ensuing decades, they became known as 'The Dirty Dozen' - earning this nickname from the 1964 war film of the same moniker. 
Members of this exclusive club are now in constant demand as few of these in good and original condition remain, and as production volumes differed widely across the 12 wartime manufacturers. Apparently, only around 30 complete sets were known to exist, worldwide. 
This 'WWW' Longines (sometimes incorrectly, called the Greenlander) is in truly exceptional and very original condition and one of the watches known as 'Dirty Dozen' commissioned by the British Ministry of Defence (MoD) during World War II.
This watch has become known as a 'Greenlander' model, though the watch was never issued for the British North Greenland Expedition and the name actually comes from a mistake in a military watch book, as the writer believed that the model was worn by soldiers on this expedition.
While all of the Dirty Dozen watches were produced along with similar guidelines, the Longines models had the biggest case size at 38mm and probably in our opinion one of the nicest cases with a 'stepped' bezel. The dial is a classic military style in black with applied lume by each of the Arabic numbers and in the Cathedral style hands while the movement is a Longines 12.68Z manual winding caliber with 15 jewels.
What's on offer:

We acquired this watch from the grandson of the soldier it was originally issued to, who served in Africa and numerous other countries during WW2. It was worn daily since being issued until approximately 1997 at which point it was stored away safely. We do have photographs of the owner's grandfather whilst in service in Africa, a wonderful piece of military history, and accompanying provenance for this watch. 
This is a really handsome and honest, original, example of the Longines 'Dirty Dozen' watch with an unpolished case, in fantastic condition, and with matching lug numbers making it very rare. Of course, there are signs of wear, but they are minor and certainly nothing unexpected for a watch of this age. The stark black dial has survived remarkably and still looks well with sharp Arabic numerals, outer minute track, and stepped subdial. The original Cathedral hands have remained intact and boast beautifully aged lume which perfectly compliments the lume on the hour plots that has given way to a stunning ombre of caramel around the dial.
This watch has recently been serviced by our master watchmaker and is running well and keeping great time; we also had the glass replaced with a correct, new old stock glass, as the glass fitted historically at a previous service we presume, was incorrect. A real collector's piece that will bring much joy to any military collector and with the knowledge, the watch came directly from the family of the soldier the watch was originally issued to! 
Additional information
Made from

Case: Stainless Steel

Dial: Black

Crystal: Plexiglas

Bracelet: NATO Style Strap
Technical specifications

Winding: Manual

Movement Type: Mechanical

Caliber: 12.68Z

Jewels: 15
Waterproof: When New

Power reserve: 41hrs

Purchase details
Condition: Excellent

Model Reference: WWW
Date of issue: c.1944

Warranty: 12 Months by VWS

Dimensions

Width: (without crown) 38mm

Height (lug to lug): 48mm

Lug width: 18mm

Wrist size: Adjustable