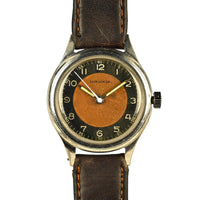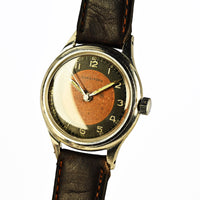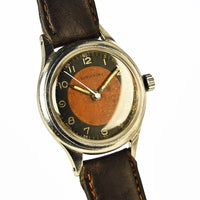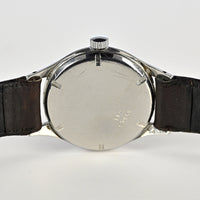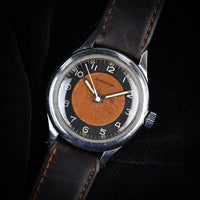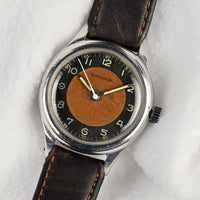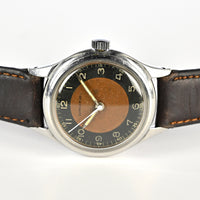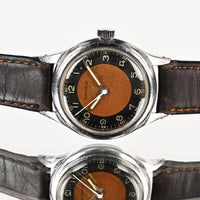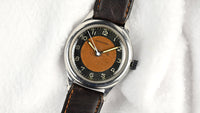 ***RESERVED***Longines Vintage Sei Tacche Dress Watch - Model ref: 22969 - Matching Case and Lug Numbers - c.1944
A Charming Vintages Longines Sei Tacche Watch - Model Ref: 22969, Dated to c.1944 With a Beautiful Tropical Dial and Match Case and Lug Numbers With Longines Extract of Archive. 

Longines (Long Meadows) was founded in Saint-Imier in 1832 by Auguste Agassiz, a Swiss watchmaker and brother of biologist Louis Agassiz. Auguste had two partners, lawyers Henri Raiguel and Florian Morel; the company's original name was Raiguel Jeune & Cie.
What's On Offer 
The Longines "sei tacche" and "tre tacche" models were first available in the 1940s and epitomized functional design. Longines was very much up there with Rolex and Omega as a well-trusted and respected watch brand that trailblazed timekeeping in the air with their pilot watches. Longines watches from the 1920s and early 1930s were fitted with snap-back cases that weren't particularly great at protecting the movement from dust and moisture and so they introduced the screw-back case which had 3 or 6 notches. Years later, Italian collectors would use the terms "tre tacche" and "sei tacche" (three-notch and six-notch, respectively) to reference these watches.
This watch is in beautiful vintage condition with a stunning two-tone dial in black and tropical chocolate brown. This watch is not dissimilar in style to the military-issued watches of the time with bold Arabic numerals and sword hands. The original ume is still present in the hands and has aged to an attractive pale lemon colour and there is also an outer seconds track present. This is a mid-size watch at 33mm but it is rather robust and wears well on the wrist. The dial is encapsulated underneath an acrylic crystal and encased in stainless steel and boasts matching case and lug numbers which is very rare. The leather strap with contrast stitching brings out the chocolate on the dial and really adds warmth. A beautiful vintage watch from an iconic watchmaker.
We requested  an Extract of the Archive from Longines which will be supplied upon purchase of this watch, this is the information provided: Originally, the serial number 6'869'051 identifies a wristwatch in stainless steel bearing the reference 5403 and the order number 22969. It is fitted with a Longines mechanical self-winding movement, caliber 23M. It was invoiced on 17 July 1945 to the company Terrasse, which was at that time our agent for Norway and Sweden.
Additional information


Made from

Case: Stainless Steel

Dial: Black

Crystal: Plexiglas

Bracelet: Leather pin buckle strap
Technical specifications

Winding: Manual

Movement Type: Mechanical

Calibre: 23M

Jewels: 17
Waterproof:

Power reserve: 

Purchase details
Condition: Excellent
Model Reference: 22969
Date of issue: c.1944

Warranty: 12 Months VWS

Dimensions

Width (without crown): 33mm

Lug width: 15mm

Lug height: (lug to lug) 41mm

Wrist size: Adjustable