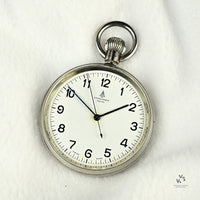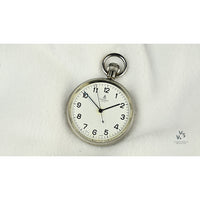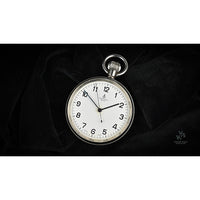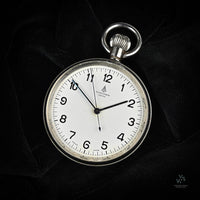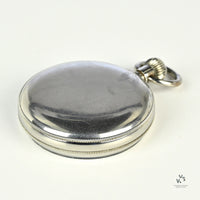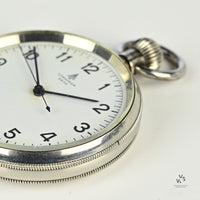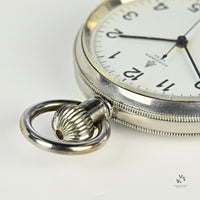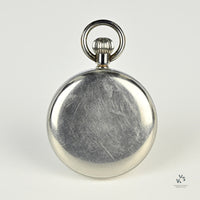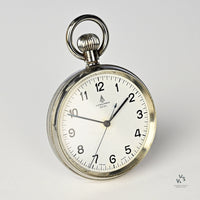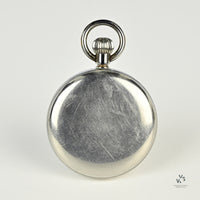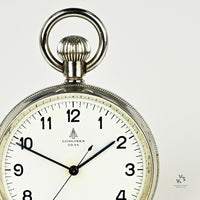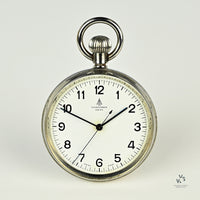 Longines Vintage Deck Watch with British Military Markings - c.1930s
A Beautifully Preserved 1930s Longines Military Issued Deck Watch with Military Markings on the White Enamel Dial.
The definition of a deck watch is a watch that is used at sea for keeping precise time – either on a ship or on a U-boat. On a ship, you needed to be below decks to get the time from a marine chronometer, which was the ship's clock. However, to find out your position at sea, you had to know the time when you were above deck using a sextant. U-boats would also have encountered this problem and so they used deck watches like this stunning example from Longines.

What's On Offer 

A 20th Century Swiss centre seconds lever deck watch with British military markings in a stainless steel open-face case in beautiful condition. Operating on a Keyless 16 jewel gilt bar movement marked with the Ministry of Defence broad arrow.  Plain cock with polished steel regulator,  compensation balance with blue steel overcoil hairspring. Club foot lever escapement.  The signed and numbered white enamel dial with centre seconds, Arabic numerals, and blue steel hands is in fine shape with just a slight discolouration at the central pin - barely noticeable to be honest. The case is in really nice condition with very few signs of use. This would make any vintage and or military collector very happy, a beautiful keepsake and potential heirloom that can be passed down through the family.  
Additional information

Made from

Case: Stainless steel

Dial: White enamel

Crystal: Acrylic 

Bracelet: n/a
Technical specifications

Winding: Manual

Movement Type: Mechanical

Calibre: 19.70N

Jewels: 16
Waterproof:

Power reserve:

Purchase details
Condition: Excellent

Model Reference: WWW
Date of issue: c.1930

Warranty: 12 Months VWS

Dimensions

Width (without crown): 52mm

Lug width: n/a

Lug height: (lug to lug) n/a

Wrist size: n/a