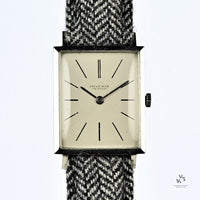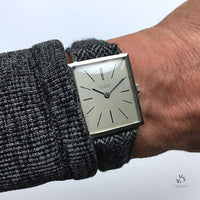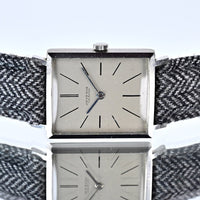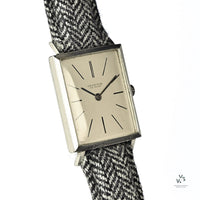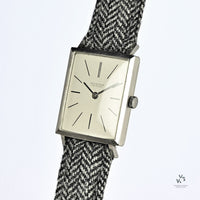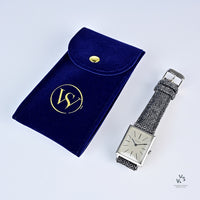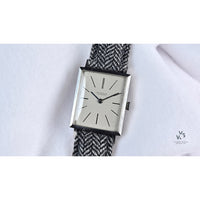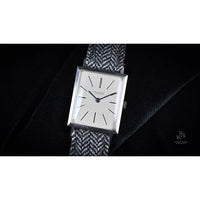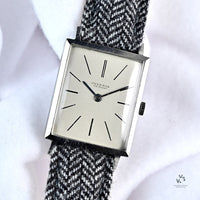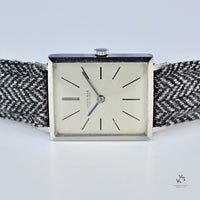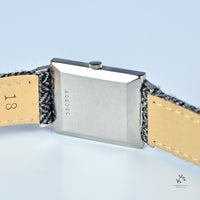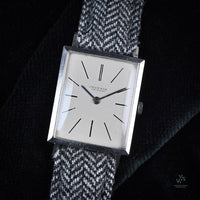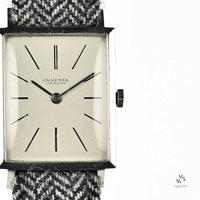 Juvenia Vintage Tank Cased Watch - Manual Wind - c.1960
A Stylish Vintage Juvenia Manual Wind Tank Watch with a Very Elegant Dial Design and Blued Steel Hands in Very Well Preserved Condition, c.1960
Juvenia watches, renowned for their exquisite craftsmanship and timeless elegance, have a rich history that spans over a century. The story of Juvenia began in 1860 when Jacques Didisheim-Goldschmidt founded the brand in Switzerland. Initially, the company focused on producing precision pocket watches adorned with intricate engravings. In the early 20th century, Juvenia shifted its attention to wristwatches, a burgeoning trend at the time.

Their innovative designs and impeccable accuracy propelled them to global recognition. Notably, Juvenia was one of the first brands to introduce wristwatches for women – a groundbreaking move that revolutionized the industry. During World War II, Juvenia played an essential role by providing reliable timepieces to military personnel. This further cemented their reputation as pioneers in watchmaking technology. Over time, Juvenia continued to innovate and explore new horizons.

In the 1950s, they introduced unique features like self-winding mechanisms and water-resistant cases. These advancements solidified their position as leaders in luxury watch manufacturing.
What's On Offer 
This is a delightful Juvenia tank watch and is in wonderfully preserved condition. The dial is very elegant in design with elongated hour markers and blued steel hands. The stainless steel case is in good shape and wears beautifully on the wrist. We have paired the watch with a stylish grey tweed strap, however, should you prefer something else this can of course be changed. It is keeping good time and running well. This watch would make a wonderful entry piece into the exciting world of vintage watch collection or indeed a very worthy addition to an existing collection. 
Additional information


Made from

Case: Stainless Steel

Dial: Silver

Crystal: Plexiglas

Bracelet: Tweed Pin Buckle
Technical specifications

Winding: Manual

Movement Type: Mechanical

Calibre: Juvenia 604

Jewels: 21
Waterproof: No

Power reserve: 42hrs

Purchase details
Condition: Excellent

Model Reference: 
Date of issue: c.1960

Warranty: 3 Months by VWS

Dimensions

Width (without crown): 25mm

Lug width: 17mm

Lug height: (lug to lug) 38mm

Wrist size: Adjustable