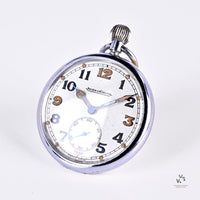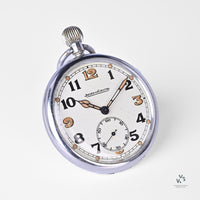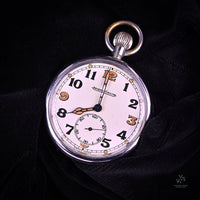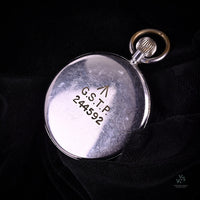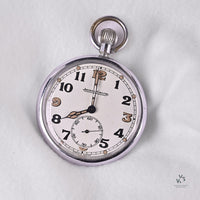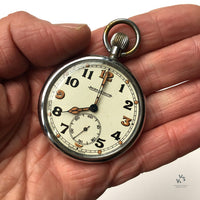 Jaeger Le Coultre GSTP (General Service Temporary Pattern) Military Pocket Watch - c.1940
A Charming Jaeger Le Coultre GSTP (General Service Temporary Pattern) Military Pocket Watch Boasting Original Lume, c.1940
GSTP watches were made by numerous manufacturers but were all of similar design, which was more than likely specified by the British authorities.   The British armed forces were slow to embrace change and consequently, when war broke out again in 1939 they were ill-prepared with insufficient timepieces for the servicemen and women. Pocket watches were hurriedly purchased from various Swiss manufacturers in anticipation of shortages.  Most of these watches were regarded as 'General Service' and classified as Temporary Pattern'. These pocket watches became the timekeeping workhorses of the early part of the war whilst more appropriate wristwatches were being commissioned.         
What's On Offer 
This is a superb example of the GSTP pocket watch and from a more than reputable brand - Jaeger Le Coultre, they later produced one of the 12 famous wartime wristwatches, The Dirty Dozen. 
The enamel dial is in excellent condition and boasts bold Arabic numerals and a sub-seconds counter at 6 o'clock.  The original lume is still present on the hour pips and quarter Arabics and is also present on the Cathedral hands which have become synonymous with Jaeger Le Coultre military pieces. The lume has aged to a beautiful deep coffee colour and looks superb. There is a little wear the the metal casing but nothing we wouldn't expect to from a wartime relic such as this. It's a wonderful piece in working order that would make a beautiful desk clock or just a charming trinket to keep and pass down. 
Additional information

 Made from

Case: Metal

Dial: White

Crystal: Acrylic

Bracelet: N/A
Technical specifications

Winding: Manual

Movement Type: Mechanical

Calibre:

Jewels: 
Waterproof:

Power reserve:

Purchase detail
Condition: Excellent

Model Reference: GSTP
Date of issue: c.1940

Warranty: 3 Months VWS

Dimensions

Width (without crown): 51mm

Lug width: N/A

Lug height: (lug to lug) N/A

Wrist size:  N/A