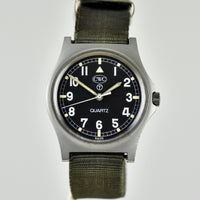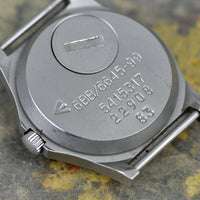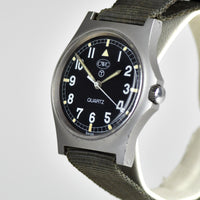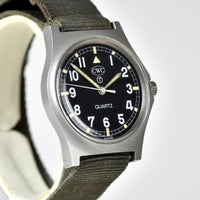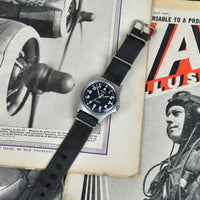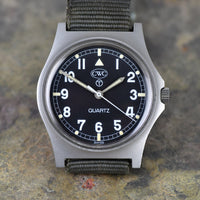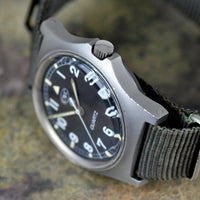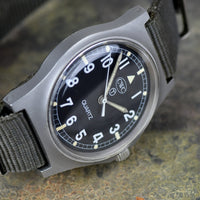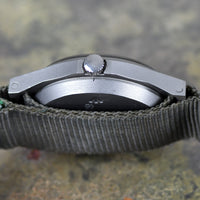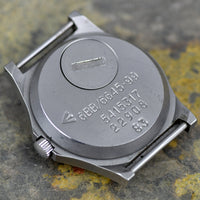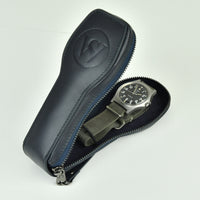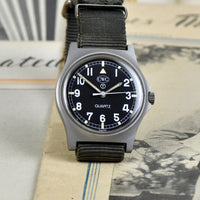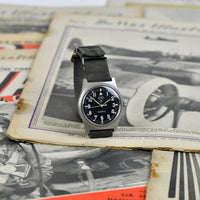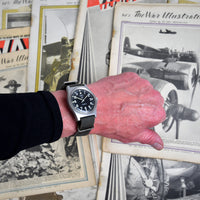 Vintage Cabot Watch Company (CWC) - G10 'Fat Boy' - RAF Military Issue Quartz Watch - 6BB/6645-99 - c.1983
WE ARE SORRY BUT THIS WATCH IS NOW SOLD!
IF HOWEVER YOU ARE LOOKING TO BUY OR SELL SOMETHING SIMILAR THEN PLEASE EMAIL sales@vintagewatchspecialist.com or WhatsApp/Call +44 7831 454658.
Thanks
Gent's Vintage Cabot Watch Company (CWC) G10 'Fat Boy' 6BB marked RAF Military Issued Quartz Watch Ref. Markings, 6BB/6645-99. c.1983. 

The Cabot Watch Company (CWC) was founded in 1972 and produced watches for all branches of the British armed services. The brand's range included mechanical and quartz chronographs, divers watches and general issue services watches. 
In the latter category, the CWC G10 is perhaps the most iconic and sought-after model - first appearing in 1980.
With a sparse yet elegant dial, designed for simplicity and clarity, the model was supplied to the Ministry of Defence for more than two decades. 
From 1987, these watches were fitted with the ETA/ESA 955.114 seven jewel quartz movement. Prior to this, they used the ESA 947.121 and the watch available for sale in this listing (dating to 1983)  is an example of the earlier movement. Because this was thicker than the later one, the case was correspondingly thicker, leading to these early CWC G10s being nicknamed 'fat boys.' 
This piece has a black dial marked with 'CWC' a letter 'T' in a circle - signifying Tritium, a luminous material painted onto the numbers and hands of the watch. 
The case back is embossed with a military arrow or 'Pheon' and engraved with two military issue numbers (5415317 / 22908), this being correct as the known S/N range – 22537 / 23494 is for the 1983 year.
This fantastic piece of British military history was Swiss made to the highest possible standards in watchmaking. 
The watch is not supplied with its original strap and will be fitted with a brand new adjustable fabric NATO style strap, in your choice of colour. 
What's on offer:
This piece was not issued with any box or paperwork so will be sold as is, and is in excellent condition for its age. 8.5/10
Additional information:
Made from: 
Case: Steel.
Case back:
Dial: Black.
Crystal: Plexiglass.
Bracelet: Supplied on a brand new, adjustable fabric Nato style strap, in your choice of colour.


Technical specifications

Winding: n/a as it's quartz 
Movement type: Quartz.
Calibre: ETA/ESA 955.114 Quartz.
Jewels: 7.
Water resistance: when new!
Time Reserve: n/a
Purchase details
Condition: Excellent condition for its age. 9/10
Model reference number: 6BB (RAF issue) /6645-99.
Date of issue: 1983.
Guarantee. 
3 months VWS guarantee
Dimensions
Width: (without crown) 38mm
Height: (lug to lug) 42mm
Lug width: 19mm.
Wrist size:
Adjustable.