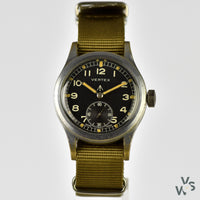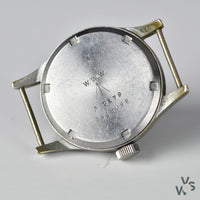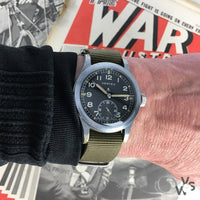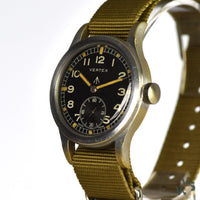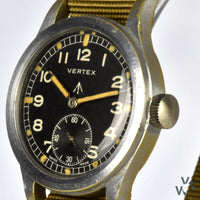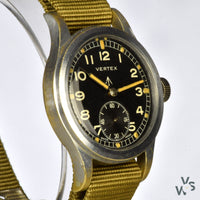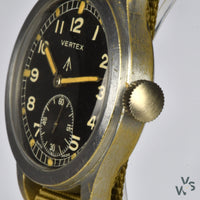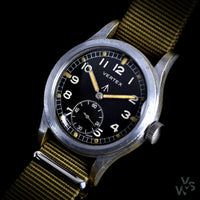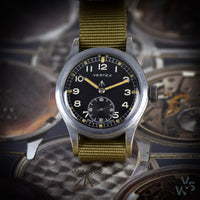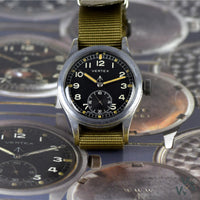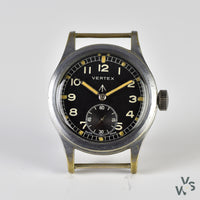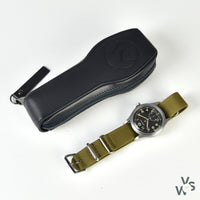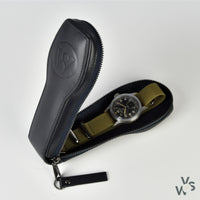 c.1944 - Vertex WWW 'Dirty Dozen' - WWII British Army-Issued Military Watch
We Are Sorry But This Watch Is Now Sold -
If However You Are Looking To Buy Or Sell Something Similar Then Please Email Sales@Vintagewatchspecialist.Com Or Whatsapp/Call +44 7831 454658.
Thanks
c.1944 Vertex WWW 'Dirty Dozen' - WWII British Army-Issued Military watch
During 1944 and 1945, twelve watch makers (Buren, Cyma, Eterna, Grana, JLC, Lemania, Longines, IWC, Omega, Record, Timor and Vertex) produced a total of approximately 150,000 of these almost identical timepieces. Though there are subtle differences, they were produced to tight specifications- designed to be waterproof, have fixed lug bars, numbers and indices, a matte black dial with luminescent hands (originally made of radium) and a small, functional and reliable movement. As these watches became highly sought after by collectors over the ensuing decades, they became known as 'The Dirty Dozen' - earning this nickname from the 1964 war film of the same moniker. Members of this exclusive club are now in constant demand as few of these in good and original condition remain, and as production volumes differed widely across the 12 wartime manufacturers. Apparently only around 30 complete sets were known to exist, worldwide with many in hot pursuit to complete the famed set.
The watch on offer here from Vertex represents around 15,000 of the approximate 150,000 total made for the war effort making the watches produced by the brand in high demand due to only being a tenth of production. The Vertex is the quintessential vintage watch size of 35mm and features pencil hands and much like the other "Dozen", Arabic indices. The large and original crown really catches the eye and the lugs are sharp and attractive.
Vertex was the only brand of the 12 that was English and was founded in 1916 by Claude Lyons. He was born in London in 1885 and by the age of 17 he had started working in the watch trade. He set up his watch company in 1906 with a £1000 loan from his father-in-law and had paid it back within the year. The company had locations in London at 37 & 38 Hatton Gardens and 133 Rue de la Paix in La Chaux de Fonds. In 2015, Vertex was re-incorporated in the U.K. by the great grandson of founder Claude Lyons, Don Cochrane. Naturally one of the key pieces to form the new collection was a reissue of the infamous "Dirty Dozen" Vertex and named the M100.
What's on offer
The present watch makes for an excellent addition to anyone's collection due to its remarkable condition. The dial is crisp and remains highly legible with the lume taking on a lovely fluffy appearance. The excellent condition of the watch available here really is a testament to the build quality from Vertex as the environment and conditions posed by any of the "Dirty Dozen" was certainly challenging and would test the robustness of any watch. Whether you are chasing the full 12 or pick out the Vertex for its rich history, the watch on offer here is quite the catch!
Additional information
Made from
Case: Chrome Top
Case back: Screw on. 
Dial: Black
Crystal: Shatter-proof plexi. 
Bracelet: NATO Military-style 

Technical specifications
Winding: Manually wound. 
Movement type: Mechanical.
Calibre: Calbre 59
Jewels: 15
Waterproof: When new! 
Purchase details
Condition: Excellent unpolished condition with crisp case edges. The watch has some signs of wear in accordance with its age. 
Model Reference: WWW. 
Date of issue: 1944/45. 
Guarantee

Supplied with a 12-month Vintage Watch Specialist guarantee. 
Dimensions
Width: 35mm.
Lug width: 18mm.
Lug height (lug to lug): 47mm
Wrist size: Adjustable.