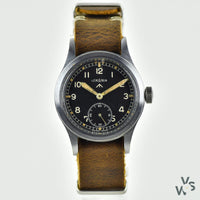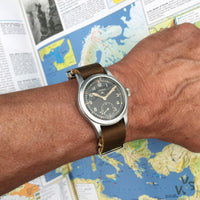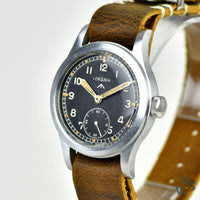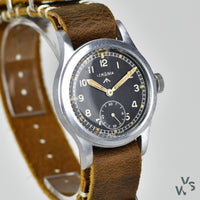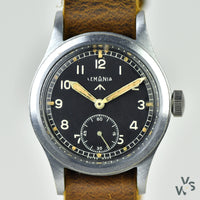 c.1944 Lemania WWW 'Dirty Dozen' - WWII British Army-Issued Military watch***NOW SOLD***
We Are Sorry But This Watch Is Now Sold - If However You Are Looking To Buy Or Sell Something Similar Then Please Email Sales@Vintagewatchspecialist.Com Or Whatsapp/Call +44 7831 454658. Thanks

c.1944 Lemania WWW 'Dirty Dozen' World War II Military Wrist Watch. Matching lug numbers!
As fighting on both the WWII Eastern and Western fronts showed signs of turning in the Allies' favour, many members of the British armed forces were issued with a basic but carefully specified watch, commissioned from 12 Swiss manufacturers by the British Ministry of supply. These were ultimately to replace the earlier issued "ATP' watches from earlier in the war.
During 1944 and 1945, twelve watch makers (Buren, Cyma, Eterna, Grana, JLC, Lemania, Longines, IWC, Omega, Record, Timor and Vertex) produced a total of approximately 150,000 of these almost identical timepieces. Though there are subtle differences, they were produced to tight specifications- designed to be waterproof, have fixed lug bars, numbers and indices, a matte black dial with luminescent hands (originally made of radium) and a small, functional and reliable movement. 
As these watches became highly sought after by collectors over the ensuing decades, they became known as 'The Dirty Dozen' - earning this nickname from the 1964 war film of the same moniker. Members of this exclusive club are now in constant demand as few of these in good and original condition remain, and as production volumes differed widely across the 12 wartime manufacturers. Apparently only around 30 complete sets were known to exist, worldwide. Regarding Lemania specifically, only 10,000 of these watches were produced for service, and a large proportion will have been destroyed/decommissioned. To find a Dirty Dozen with an original dial, with pumpkin patina and full radium lumes and with matching lug numbers is unheard of. Seize this opportunity! A highly collectable vintage military watch with tangible history behind it.
Housed in a 36.5mm chrome-topped stainless steel case with minimal wear to speak of, this Lemania WWW is in excellent and original condition. The original sword hands, dial and case are all original to the watch, attested to by the lume plots, which have inherited a beautifully colourful and even patina over the years. The hands and lume plots show matching original radium. Later replacement dials can be distinguished by their sterile dial: no brand, and a 'T' for tritium, used to replace the more radioactive (and in larger quantities hazardous) radium, as well as a sub-register which is flush with the dial. Here, there is no 'T', 'Lemania' can be clearly seen, and the sub-register is sunk: it's the original dial. The original railroad chapter ring is beautifully preserved. 
What's on offer:

This is a lovely, honest example of the Lemania 'Dirty Dozen' watch with an unpolished case in fantastic condition. The lume on the dial and hands is a beautiful even pumpkin tone, and is intact in all areas. There is a chip in the case back just to the left of the NATO watch numbers. 
The piece will be supplied on a brand new NATO textile strap in black, khaki or grey, to complete the military look. 

This watch was recently serviced for us by renowned military watchmaker John Senior.

Additional information:
Made from: 
Case: Stainless steel.
Case back: Screw on. 
Dial: Black.
Crystal: Shatterproof plexiglass. 
Bracelet: New textile NATO strap. 
Technical specifications
Winding: Hand-wound
Movement type: mechanical hand wound 
Calibre: 27A
Jewels: 15j. 
Water resistance: When new.

Purchase details

Condition: Great condition for its age. 8/10
Model reference number:  WWW.
Date of issue: 1944/1945.
Guarantee
Supplied with a 12-month Vintage Watch Specialist guarantee.
Dimensions
Width:
 (without crown) 36.5mm
Height:
 47mm (lug to lug) 

Lug width: 18mm