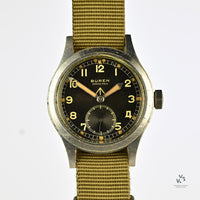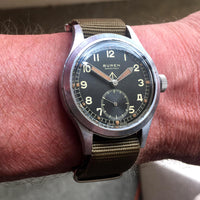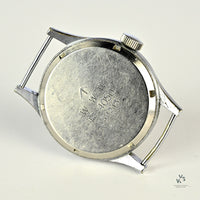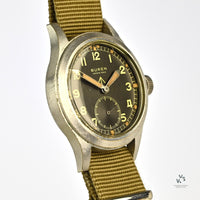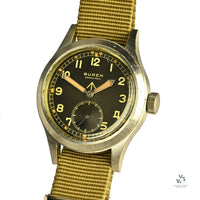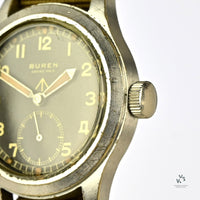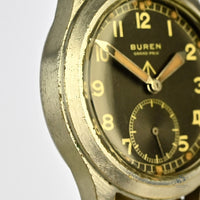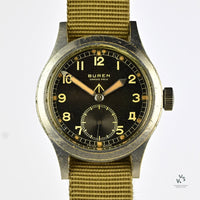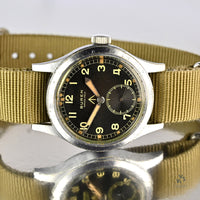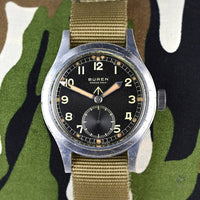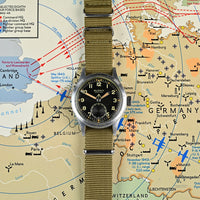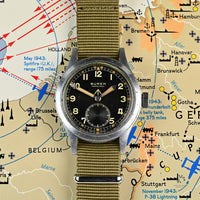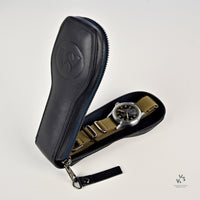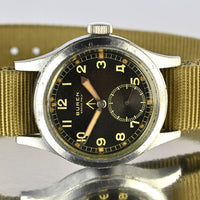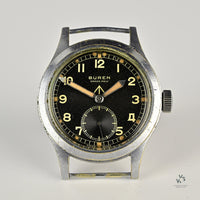 Buren - WWW 'Dirty Dozen' - WWII British Army-Issued Military Watch - c.1944
***ON HOLD***A Superb British Army-Issued, Buren World War 2 Dirty Dozen Example in Superb Condition with Stunning Lume. A real Collector's Piece! Sometimes also known as the W10 or WWW. 
The Buren Watch Company was created in 1898. This followed the acquisition of Fritz Suter & Cie, at the Swiss town Büren an der Aare, by the London company of H. Williamson Ltd, producing pocket watches and table clocks of all types. Due to the existing rail link, H. Williamson Ltd; invested and expanded further in Büren and developed the site into an international branch. From 1916 Henry Williamson used the signature Büren Watch Co. In 1966 the Buren Watch Company was sold to the Hamilton Watch Company. Buren quickly became the manufacturer of the majority of Hamilton watches, eliminating US production.
In the closing years of World War II, a basic but carefully specified model wristwatch was commissioned for members of the British armed forces by the Ministry of Defence - manufactured by one of twelve watchmakers who delivered the pieces in 1944 and 1945. These manufacturers (Buren, Cyma, Eterna, Grana, JLC, Lemania, Longines, IWC, Omega, Record, Timor and Vertex) later came to be known as 'The Dirty Dozen' in the mid-1960s, after the release of the popular war film of the same name. Out of the circa 150,000 watches delivered, only circa 11,000 Buren branded watches were produced compared with Omega or Record who for example produced around 25,000 examples each of the approximate 150,000 watches.
What's on offer
This Buren Dirty Dozen is in fantastic condition with a rich black dial boasting crisp Arabic numerals, minute track and recessed subdial. The lume on the hour plots and in the sword hands has aged to a beautiful deep tobacco colour which looks stunning against the black of the dial (there is some slight deterioration of the lume of the minute hand). The chrome-topped case is in nice condition with just minor signs of wear - quite remarkable considering its age and intended use. The caseback is engraved with WWW H 4050 334213, along with the military pheon. This is a superb example that has the bonus of having just been serviced by our master watchmaker so it runs very well and, would be worthy of any military or vintage collection. 
Additional information
Made from
Case: Chrome Top
Case back: Screw-on
Dial: Black
Crystal: Plexi
Bracelet: NATO military-style 
Technical specifications
Winding: Manual
Movement Type: Mechanical
Calibre: 462
Jewels: 15
Waterproof: When new
Purchase details
Condition: Excellent 
Model Reference Number: WWW
Date of issue: c.1944
Warranty: 12 Months by VWS

Dimensions
Width: 36.5mm
Lug width: 18mm
Wrist size
: Adjustable