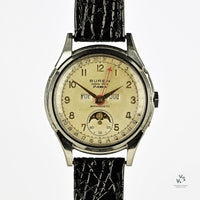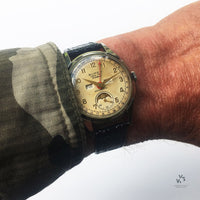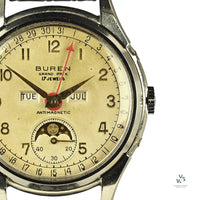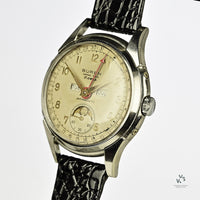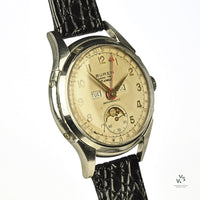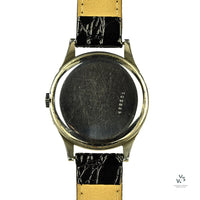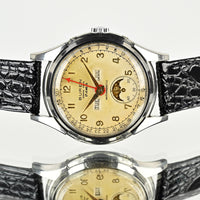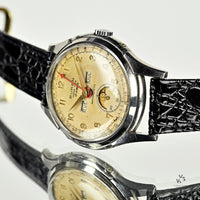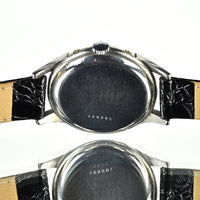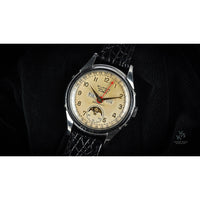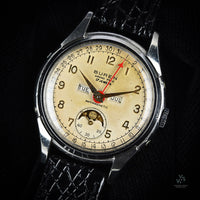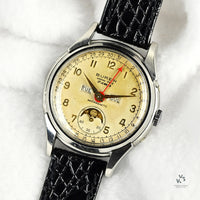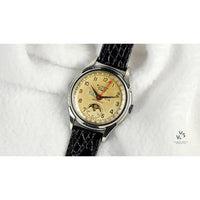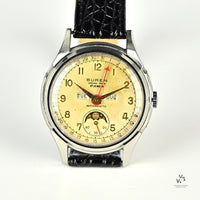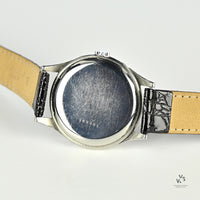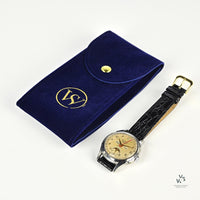 Buren Grand Prix Triple Calendar Moonphase - c.1953
A Charismatic Buren Grand Prix Triple Calendar Moonphase with a Beautifully Aged Vintage Dial, Gilt Arabic Numerals and Stylish Dauphine Hands, c.1953
The Buren Watch Company was created in 1898, following the acquisition of Fritz Suter & Cie, at the Swiss town Büren an der Aare (canton Bern), by the London company of H. Williamson Ltd. There were produced pocket watches of all types and table clocks. Due to the existing rail link H. Williamson Ltd. invested and expanded further in Büren and developed the site into an international branch. From 1916 Henry Williamson used the signature "Büren Watch Co."
What's On Offer 
A beautiful vintage Buren triple calendar Moonphase on offer here. A triple-calendar combines a day-date function with a month indicator, which means the watch will display the date, the day of the week, and the month. A triple calendar needs to be adjusted five times a year, as it displays every month as having 31 days. A Moonphase watch displays the sunlit portion of the moon as observed from Earth at any given point during each 29.5-day lunar month. That's the time it takes to get from a new moon, when it's not visible, to a full moon and back again.
So that's the function, the form is a classic vintage dress watch with a beautifully aged dial in a sepia hue boasting gilt Arabic numerals and elegant Dauphine hands. The watch has day and month apertures at 9 and 3 and a red pyramid date hand with an outer date marker track and there are concealed buttons for changing the date and month.
This watch is in nice vintage shape and has bags of character, it has very few signs of wear to the case and lugs and is running well. At 35mm it's a mid-size watch but wears very well on the wrist. A very nice addition to any collection. 
Additional information

Made from

Case: Stainless Steel

Dial: Ivory

Crystal: Plexiglas

Bracelet: Black Leather Pin Buckle Strap
Technical specifications

Winding: Manual

Movement Type: Mechanical

Calibre: 382

Jewels: 17
Waterproof:

Power reserve: 41hrs

Purchase details
Condition: Excellent

Model Reference: 465201
Date of issue:

Warranty: 12 Months VWS

Dimensions

Width (without crown): 34.5mm

Lug width: 17mm

Lug height: (lug to lug) 42mm

Wrist size: Adjustable