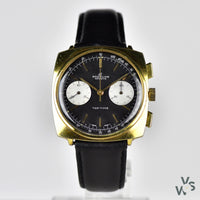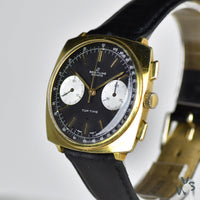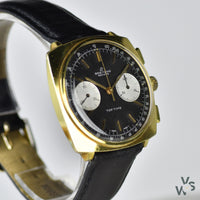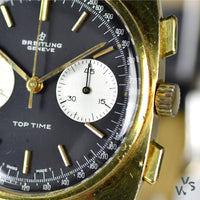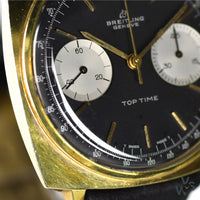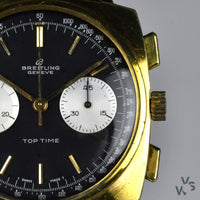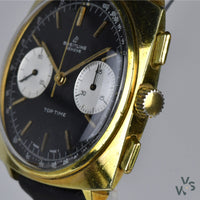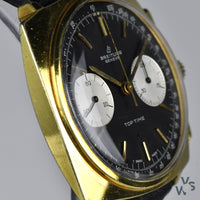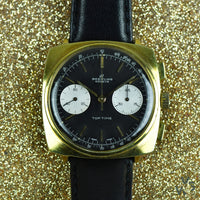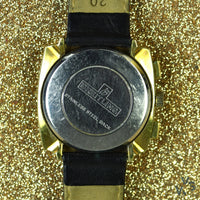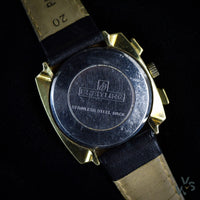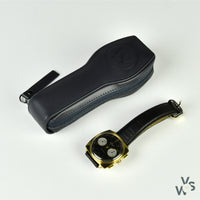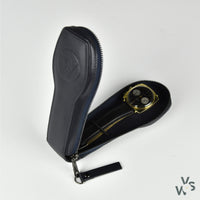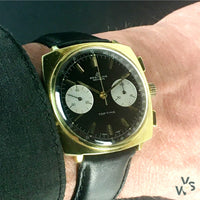 Breitling Top Time 'Reverse Panda' Ref. 2008 - Cal. ETA-7730 - c.1964
Sorry Now Sold!
c.1964 Breitling Top Time 'Reverse Panda' Ref. 2008 - Manually-wound chronograph calibre ETA 7730 
Breitling Top Time is a fantastic success story of a watch series characterised by bold and elegant design which caters to the everyday enthusiast, intended to also be useful tools for professional pilots and racers. These watches were first introduced in 1964 and were primarily intended for young men, blurring the lines between fashion and function to cater to the crowds. Breitling Top Time watches were positioned as entry-level chronographs, with much lower prices than the company's flagships, the Navitimer and Chronomat. Finding initial favour amongst pilots, Breitling became an increasingly popular choice to take to the skies, a reputation which was cemented when the AOPA (Aircraft Owners and Pilot's Association) officially chose Breitling as their watch house of choice to fly with. 
The Top Time eventually became a classic among watch enthusiasts as well as pilots, thanks to its continued popularity. It was clear that in their attempt to create a high quality powerful watch which was affordable but not flashy, Breitling had got all of the fundamentals spot on with the Top Time, propelling their value significantly higher than initially intended. The many celebrities from the entertainment and sports worlds who were known to wear a Breitling Top Time paved the way for the watch to be etched forever into the annals of pop culture. The distinctive reverse panda dial seen on this watch is a hallmark of the Top Time, including that worn by actor Sean Connery throughout James Bond: Thunderball (1965). The two silver registers at 3 and 9 o'clock quantify chronograph run time and continuous seconds respectively and feature a radially brushed texture. The Gold-plated 'cushion' case lends a subtle 'retro' feel to the watch, which compliments the circular inner features beautifully thanks to its gently rounded corners and delicately curved lugs. 
The ETA 7730 movement is signed by Breitling, having been modified by them to fit this case, and features a twin-register chronograph complication which is operated by two pushers which straddle the crown at 2:00 and 4:00. The tachymetric chapter ring allows for speed calculations on the fly, a testament to the watch initially being intended for the cockpit.
What's on offer
Though it has been worn, this Breitling Top Time has been spared from heavy wear. It takes getting up close with the watch to realise that it has been worn, and retains its original case polish. The dial is stunningly preserved, with a light vintage patina across the hands and hour plots. 
Additional information

Made from

Case: Gold-plated
Dial: Reverse panda design, silver chronograph registers
Glass: Plexiglass

Bracelet: Black leather.
Technical specifications

Winding: Manually wound.

Movement type: Chronograph complication, manual-winding.

Calibre: Base 7730 (ETA)
Purchase details

Condition: Very good vintage condition.
Model Reference Number: 2008
Date of issue: c.1964 (Serial Number based)

Guarantee

12-month VWS guarantee.
Dimensions

Width: 36.8mm

Height, lug to lug: 36.8mm
Lug width: 20mm

Wrist size: Adjustable via buckle.