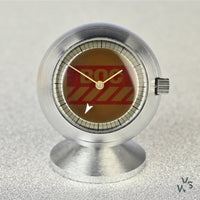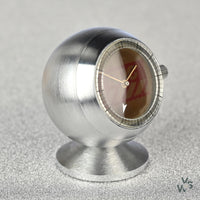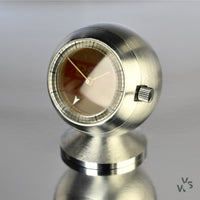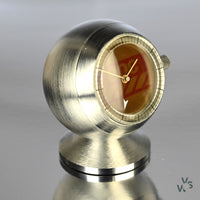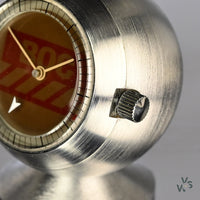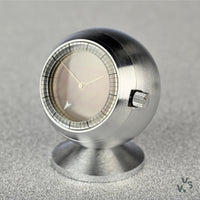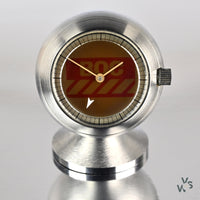 A Vintage British Oxygen Company Branded Desk Clock with Mystery Seconds Hand and Light Changing Dial***NOW SOLD***
***NOW SOLD***A Charming Vintage Stainless Steel BOC Branded Promotional Desk Clock with a Fun Light Changing Dial and Mystery Seconds Hand. 
Brin's Oxygen Company, Ltd. was formed in 1886, by two French brothers, Arthur and Leon Brin. In the early years, the company manufactured oxygen using a high-temperature barium oxide process, known as the Brin process, developed from the work of French scientist Jean-Baptiste Boussingault.

In 1906, the Brin brothers renamed the company the British Oxygen Company or BOC. 
During the First World War, the business increased significantly as the mass production of needed war machinery—ships, tanks, and trucks—involved either metal cutting or welding. In the post-war period, it grew by acquisitions, which included Sparklets Ltd, Allen-Liversidge Ltd, and the Quasi-Arc Company. During the Second World War, the gases for munitions and for medical needs were provided by BOC. As in the First World War, the business grew.
In 2006, after nearly a century of intermittent courtship, BOC became a part of Linde Group and the synergy overtook Air Liquide as the global market leader.
What's on Offer
BOC's now redundant (and derelict) head office premises in Windlesham, was built in the 1980s and when seen from the air, resembles the shape of an oxygen molecule. Rather fitting then that this promotional desk clock has a very distinct nod toward deep-sea diving helmets of the past which of course provided divers with breathing oxygen whilst on diving expeditions. It's a rather smart little gadget that could have been produced to gift to long-serving employees, or presented to associates of the company. The sphere-shaped clock is factored from stainless steel and sits on a small stainless steel base.
The dial is rather fun as it changes from dark to light as the 'mystery' seconds hand rotates, showcasing the BOC logo as it lightens and concealing it as it darkens. We have a vague idea how this works but if you can shed any light please do get in touch! 
This would make a lovely gift, I have thoroughly enjoyed it sitting on my desk as I wrote this description, so I am sure it would appeal to any desk user with a penchant for an appealing and extremely well made timepiece! 
The dial measures 30mm. The clock stands around 60mm high and 43mm wide without the winding crown. A charming little mechanical clock that will be a constant companion!