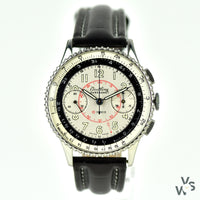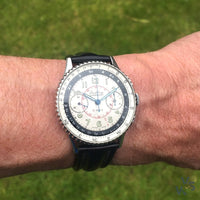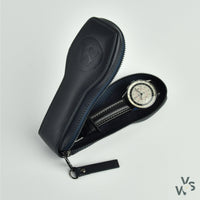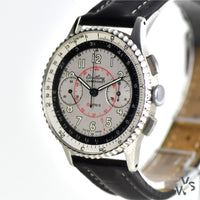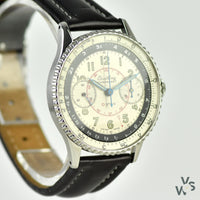 A Very Rare and Stunning Breitling Chronomat - Patent 217012 - Model: 769 - Calibre, Venus 175 - c.1945***SOLD***
We Are Sorry But This Watch Is Now Sold - If However, You Are Looking To Buy Or Sell Something Similar Then Please Email Sales@Vintagewatchspecialist.Com Or Whatsapp/Call +44 7831 454658. Thanks
c.1945 Barn Find Breitling Chronomat Slide-Rule, Model Ref. 769 - Patent #217012

We are stunned at the condition of this watch given its age. I've got it here next to a worn 2019 watch, and I can honestly see more wear on the latter! It was designed for WWII pilots as the war drew to a close, and proved to become one of the most instantly recognisable designs ever to be seen on pilot's chronographs. This is clearly a piece which has been left preserved in a pilot's sock drawer somewhere. Having recently surfaced, it has been fully inspected and cleaned by Breitling themselves at a cost of 600 Euros, the receipt of which will be included. Breitling confirmed the watch's originality and has also commented on its remarkable timekeeping ability to this day. Breitling attached a protective sticker to the case back upon this service, and it has only been worn to photograph for this sale listing since that service (the sticker is still there).
The Breitling Chronomat with its rotating slide rule (the internal bezel rotates) was patented in 1941 as war raged through Europe and other parts of the world, its design offering a welcome respite from the plethora of military and military-inspired watches of the period. The Chronomats emphasis on engineering and mathematics, science and industry seemed to offer hope for a future when the war would be over and reconstruction could begin. 

The 1940s Chronomat is regarded by many collectors as one of the most attractive Breitlings ever made, a true classic. 
There is a red 0 - 100 scale near the middle of the dial which can be used for reading 1/100ths of a minute and facilitates computations using the slide rule. The Swiss cross and the number 217012 on the dial refer to the Swiss government patent that was granted in 1940.

In common with other Breitling chronographs at this time, the minute register is marked at 3, 6 and 9 minutes as long-distance phone calls were charged in 3-minute increments in most countries. Long distance and especially international 'toll' calls were very expensive at this time; the connection was via the operator; there was no direct dialling, and it was important not to go 'over' one's chosen duration and become liable for a charge of a further three minutes. The turning bezel includes an outer telemeter scale which is used for measuring the distance of a phenomenon that is both visible and audible, eg lightning/thunder.
What may have been born from a manic need for future-oriented design ended up becoming incredibly successful in that it combined the need for a very intricate slide rule to perform on-the-fly calculations with a dial which actually looked nice as well. The layering of concentric rings, each featuring a subtly different tone from the next, helped the mass of figures and tachymetric notches make sense at a glance. Breitling knew they had achieved something extraordinary here, and so applied for a patent to register the design and technology with the Swiss Government. This patent was assigned the number 217012, clearly printed on the dial together with the Swiss cross to its left. In 1952, the outstanding usefulness and success of the Chronomat inspired the birth of what has since become the most famous Breitling of all, the Navitimer, a chronograph with the slide rule redesigned for civil aviation pilots.

It is a beautiful design which has passed the test of time with flying colours. Blue-tempered steel hands stand out against the rich creamy colour of the dial. Twin sub-registers at 3:00 and 9:00 straddle a central conversion register and are surrounded by Arabic numerals with luminescent inserts. 
What's on offer

A truly once-in-a-lifetime opportunity to purchase a 1940s WWII Pilot's watch which has hardly seen wear. This watch can be dated by serial number to 1945 with reasonable accuracy but is certain to have been produced between 1941 and then, as this is when the slide-rule patent was registered. Full-service history (in German, which can be translated for you) will be provided with the watch. We can honestly see no sign of wear on the lugs, case edge, case back or dial. The case edges in particular still bear the factory polish, potentially implying that the watch was historically polished and then not worn since. 
Additional information

Made from

Case: Stainless steel.

Dial: Slide-rule chronograph

Crystal: Plexiglass. 

Bracelet: Black leather strap, solid Stainless buckle 

Technical specifications

Winding: Manual.

Movement Type: Mechanical Hand Wound

Calibre: Venus 175

Jewels: 17j.

Power reserve: 36 hours. 

Purchase details

Condition: Excellent, 9/10

Model Reference Number: 769 - patent 217012
Date of issue: 1940s

Guarantee

Comes with a 12-month VWS guarantee.

Dimensions

Width: 36mm

Lug width: 18mm

Lug height (lug to lug): 42mm

Wrist size: Adjustable.