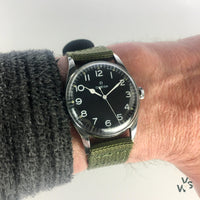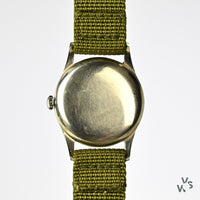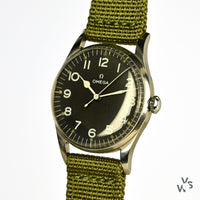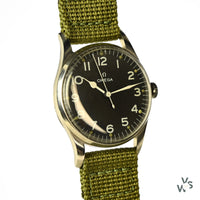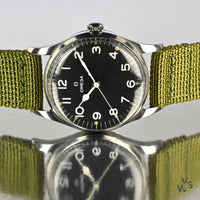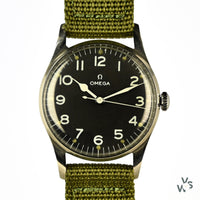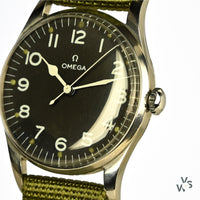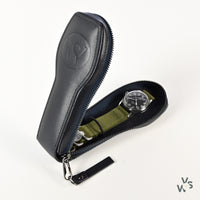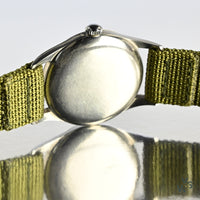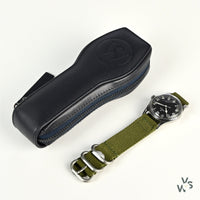 Omega - Vintage - Military RAF - Air Ministry Style Watch - c.1944
Omega Military Style Watch with Black Dial and Sharp Arabic Numerals. Caliber: 30T2sc  Movement No: 1000xxxx Year: c.1944
OMEGA is not just one of the most prominent watch brands in the world. They're also one of the most historically significant. OMEGA is widely known for being the first watch on the moon and the official watch of the space program. However, they were also the first official watch of the United States Army in 1918. 
What's On Offer 
Omega has a storied history and a long relationship with the military and although we cannot confirm that this was originally a military-issued watch, it bears all of the hallmarks synonymous with MoD watches. When inspecting the caseback there does seem to be signs of previous engravings but nothing we can make out or confirm with any clarity. Often when military personnel were leaving the forces they would wipe off any case back marking that would suggest it was the property of the Crown or sometimes when the MoD sold off watches to the public through either newspapers or Military Surplus Suppliers they would have the caseback markings removed. This watch has all the trademarks of an issued 6B/159 marked watch issued to the RAF and Air Ministry!
In any case - it's a charming watch and if it wasn't issued by the MoD it is certainly inspired by watches that were. The black dial is in superb condition with no blemishes, the Arabic numerals are perfectly sharp and the white hands are very elegant. A perfect watch and priced to reflect its lack of case back markings so a well-priced watch especially if you have the correctly marked case back for it!
Additional information
Made from

Case: Stainless Steel

Dial: Black

Crystal: Plexiglass

Bracelet: NATO Style
Technical specifications

Winding: Manual

Movement Type: Mechanical

Caliber:  30T2sc

Jewels: 16

Waterproof: N/A

Power reserve: 40hrs

Purchase details
Condition: Excellent

Model Reference : 
Date of issue: c.1944

Guarantee: 12 Months by VWS

Dimensions

Width (without crown): 32mm

Lug width: 17.8mm

Lug height: (lug to lug) 43mm

Wrist size: Adjustable