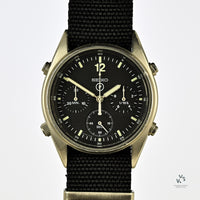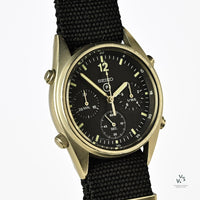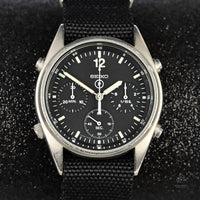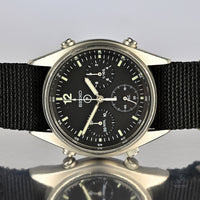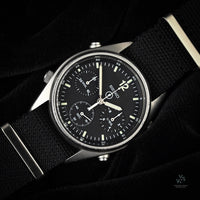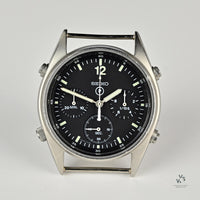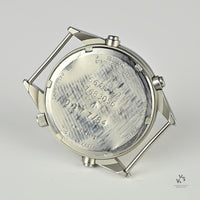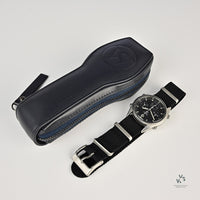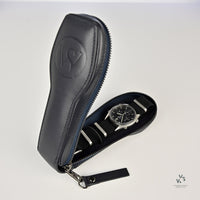 Seiko Chronograph - Reference 7A28 - Generation 1 - RAF Issued Watch - 1984
1984, Royal Air Force Issued, Seiko 7A28 Gen 1 Pilots Quartz Analogue Chronograph Watch with Black Dial in Super Condition.
Seiko 7A28-7120 is a series of watches that introduced the first analogue display quartz chronograph movement to the world. Seiko launched the series in the early 1980s, and the movement went on to appear in many notable watches.
The series incorporates more than 40 variations including military watches which were issued to the United Kingdom's Ministry of Defence (MoD) and the South African Air Force (SAAF). 
Seiko has been supplying military-grade watches to the UK's Ministry of Defence (MoD) for more than three decades, and this relationship started with the 7A28 movement. In the mid-1980s Seiko released its 7A28-7120 variant with NATO Stock Number 6645-99-768-3056 to be used by the ministry's British, Royal Air Force (RAF).
Gen. 1 RAF-issued Seiko watches were on the wrists of British Air Force pilots and navigators from October 1984 until November 1990. The 7A28 movement was replaced by the Seiko 7T27 calibre in 1993.
In total there were just over 11,000 produced and stamped with MoD numbers so of course, as the number out there dwindles, this watch is becoming more and more sought after. 
What's On Offer 
This watch is in great original and honest condition, with a blemish-free black dial, three recessed sub-dials, luminous pencil hands, and hour plot markers. The stainless steel case is in superb condition with very legible military back engravings;  6645 = Time Measuring Instruments, 99 = United Kingdom, 768-3056 = individual part number. This particular watch was issued in 1984 and given it is over 30 years old, it is in remarkable shape. This would make a great entry-level watch for any budding military collector - it is working well and keeping good time, having recently been serviced and a new battery fitted, making it a perfectly appropriate everyday wearer. 
We do have more than one of these references in stock, so if you are looking for a particular year then please do take a look at our other examples, it might just be your lucky day! 
Additional information
Made from

Case: Stainless Steel

Dial: Black

Crystal: Plexiglass

Bracelet: NATO Style
Technical specifications

Winding: N/A

Movement Type: Seiko Quartz Chronograph 

Caliber: 7A28A

Jewels: 15j

Waterproof: When New

Power reserve: N/A

Purchase details
Condition: Excellent

Model Reference : 7A28A
Date of issue: 1984

Guarantee: 12 Months by VWS

Dimensions

Width (without crown): 36.5

Lug width: 20mm

Lug height: (lug to lug) 44mm

Wrist size: Adjustable