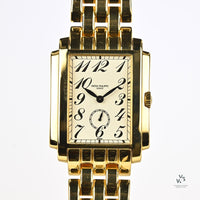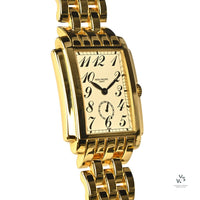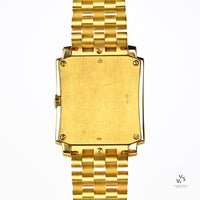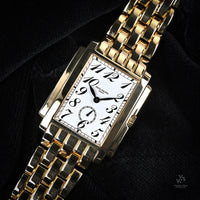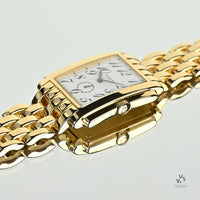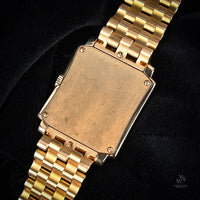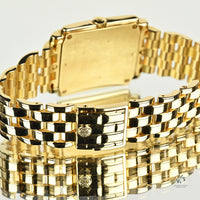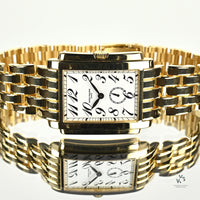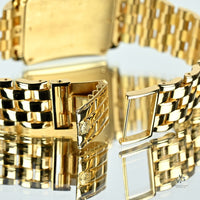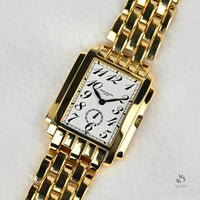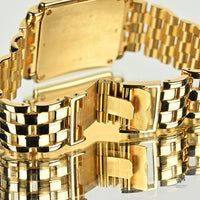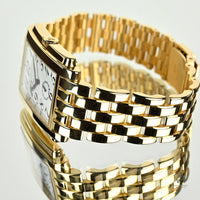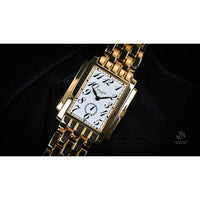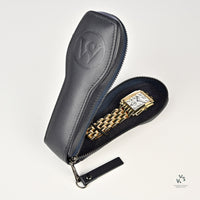 Patek Philippe 18k Gold Gondolo Watch - Model Ref: 5024-1 - c.1990s
An Absolutely Stunning Patek Philippe Gondolo Tank in 18k Gold with a Beautiful White Breguet Numeral Dial on a Solid Gold Bracelet. 
The Gondolo collection was named after the famous retailer in Rio de Janeiro, Gondolo & Labouriau, with whom Patek Philippe enjoyed a strong and successful business relationship between 1872 and 1927.
This bond resulted in the creation of timepieces - designed exclusively for the Brazilian retailer - named the "Chronometro Gondolo". The collection initially consisted only of pocket watches, before the first wristwatches appeared in the 1920s.
At a time when Europe struggled with lean years and faced a World War, it was Gondolo & Labouriau alone who retailed close to a third of the entire production of Patek Philippe watches.
Sales were so spectacular that in Brazil, 'Patek' even became a substitute for the noun 'watch'; instead of buying a watch, you bought a Patek - even if it wasn't a Patek Philippe at all.
What's On Offer 
This is the epitome of the dress watch - the iconic Patek Philippe Gondolo in 18k gold on its original Patek gold bracelet, what a stunner! The dial is in beautiful condition, the brilliant white is the perfect platform for the Breguet numerals and elegant leaf hands, and of course the sub-seconds dial at 6 o'clock. Simply signed Patek Philippe Geneve, the dial is encapsulated underneath sapphire crystal and encased in a stunning 18k yellow gold tank case which is in superb condition. The fact the watch is on its original bracelet really sets this piece apart and offers a whole other dimension of opulence - this is certainly a head-turning watch with a nice presence on the wrist - not too much but certainly present! If you are in the market to splurge on a gold watch that will never go out of style and will retain its value, look no further. A beautiful investment piece ready to be enjoyed. 

Additional information

Made from

Case: 18K Gold

Dial: White

Crystal: Sapphire

Bracelet: 18k Gold
Technical specifications

Winding: Manual

Movement Type: Mechanical

Calibre: 215

Jewels: 18
Waterproof:

Power reserve: 44hrs

Purchase details
Condition: Excellent

Model Reference: 5024 - 1 
Date of issue: c.1990s

Warranty: 12 Months VWS

Dimensions

Width (without crown): 29.5mm

Lug width: 19mm

Lug height: (lug to lug) 37.5mm

Wrist size: 185mm (approx)