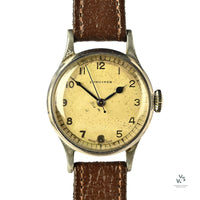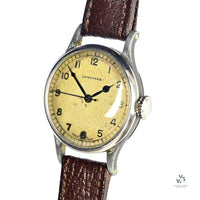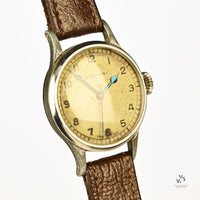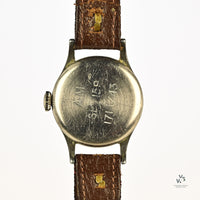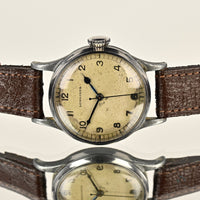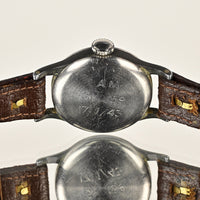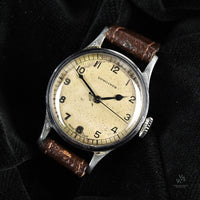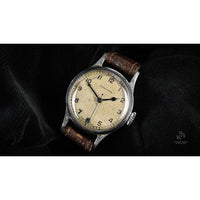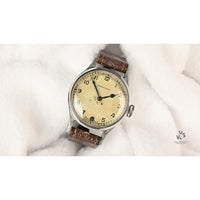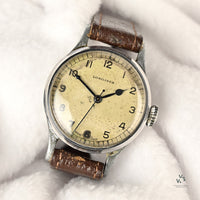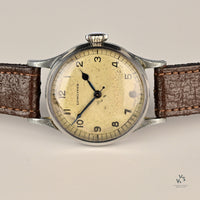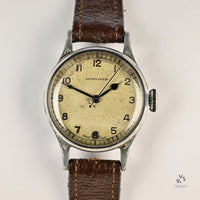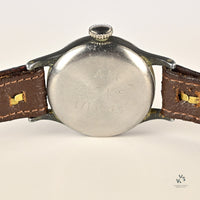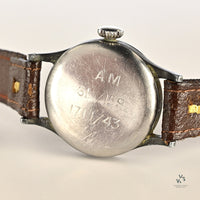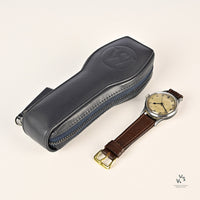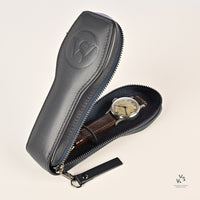 Longines 6B/159 RAF - Issued WWII Military Watch - White Dial - 1943
A Superb and Very Collectible Longines 6B/159 From 1943 in Original Condition with Military Engravings
This 6B/159 military issue wristwatch, made by Longines, is a rare RAF-Issued WWII military watch, worn during the Second World War by Fighter Pilots, recon spies and other aerial navigators. Before radar and GPS, timing was crucial when it came to the position of the aircraft and it was up to the aircraft navigators to provide accurate information.
Produced by a number of world-class Swiss watchmakers, including not only Longines but Omega and Jaeger LeCoultre, 6B/159 models were issued to both navigators and RAF pilots during World War II.
What's On Offer
In the 1950s, a number of these watches were recommissioned by the Ministry of Defence, with modifications made that included replacing the entire case, however, this watch still boasts its original case and engravings from 1943 which read: AM 6B/159 1711/43. The dial has aged over the years and is rather speckled, however, this is the natural ageing process and we think it's rather charming - these watches have a life of their own and their signs of age offer individuality - you won't find another exactly the same. 
This sparse and elegant timepiece with an off-white dial and blue steel leaf hands is a genuine piece of British military history, much sought after by collectors - especially those seeking the full set of 6B/159 watches, both originals and reissues.
What's On Offer 
Additional information


Made from

Case: Stainless Steel

Dial: White

Crystal: Plexiglas

Bracelet: NATO-style strap
Technical specifications

Winding: Manual Wind

Movement Type: Mechanical

Calibre: 12.68N

Jewels: 16
Waterproof: When new

Power reserve:

Purchase details
Condition: Excellent

Model Reference: 6B/159
Date of issue: 1943

Warranty: 12 Months VWS

Dimensions

Width (without crown): 32mm

Lug width: 16mm

Lug height: (lug to lug) 43mm

Wrist size: Adjustable