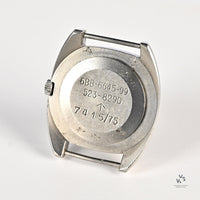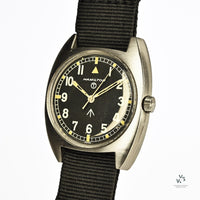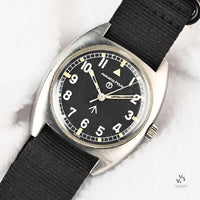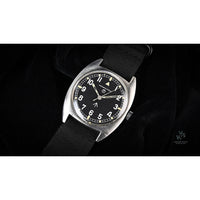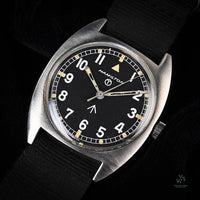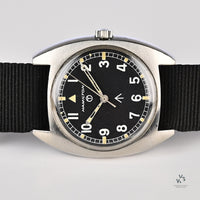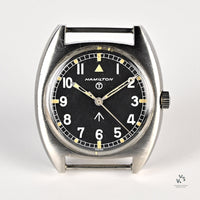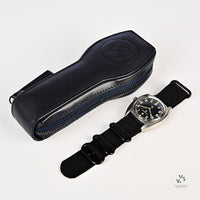 Hamilton - 6BB Military Watch - Issued 1975
A Hamilton 6BB-6645-99 Military Watch From 1975 in Original Condition with Original Military Engravings on the Caseback. 
Hamilton produced for the RAF under the 6BBmark between 1973 and 1976. The watch succeeded the earlier Smiths production piece and preceded the CWC production pieces.
The 'T' marking on the dial stand for tritium, the original 1960s and 1970s material used to make dials luminescent, a mark that guarantees the originality of the dial.   Fixed lug bars as typical of military pieces, notably also present in the 'Dirty Dozen' collection. 
What's On Offer 
This watch was issued in 1975 so it is approaching half a century old - hardly surprising then that it has suffered a couple of war wounds along the way - mostly in the shape of the lume of the hands. This could be corrected by our military watchmaker, however, we prefer to sell watches in original condition, but it's certainly an option should you want the watch. The rest of the watch has survived remarkably well, the dial is rich black and boasts sharp Arabic numerals as we expect from military watches. The hour plots still boast their original lume and it has aged to a pretty pale butter colour. The Hamiliton signature and T for tritium emblem are present at 12 o'clock and the military pheon sits at 6 o'clock and completes the dial with is encased in a stainless steel tonneau case with original military markings on the caseback which read 6BB-6645-99 523-8290 7415/75. 
Additional Information

Made From

Case: Steel

Dial: Black

Crystal: Plexiglass

Bracelet: NATO style 

Technical Specifications

Winding: Manual

Movement Type: Mechanical

Calibre: 649 (ETA 2750)

Jewels: 17

Waterproof: N/A

Power Reserve: Approx. 50hrs

Purchase Details
Condition: Excellent

Model Reference: 6BB/6645-99 
Date of issue: 1974

Guarantee: 12 months by VWS

Dimensions 

Width: 36mm

Lug width: 18.5mm

Lug height: (lug to lug) 41mm

Wrist size: Adjustable