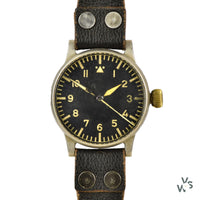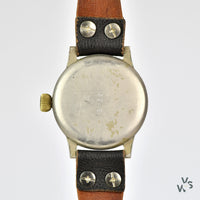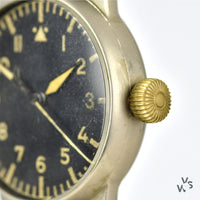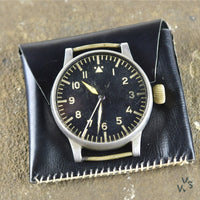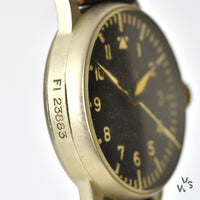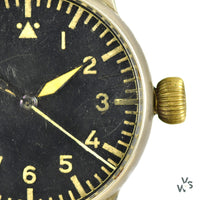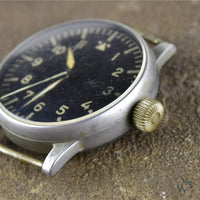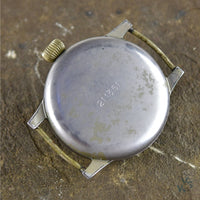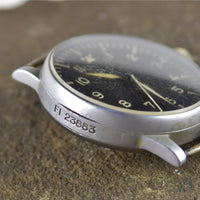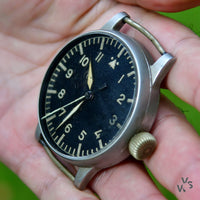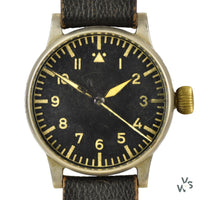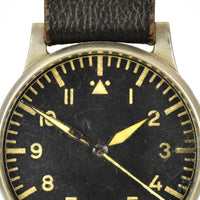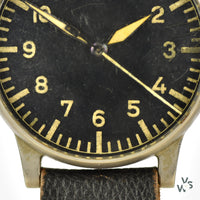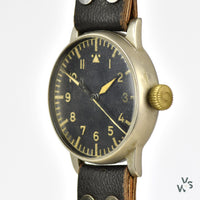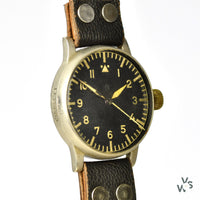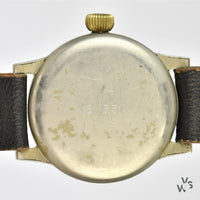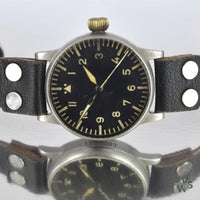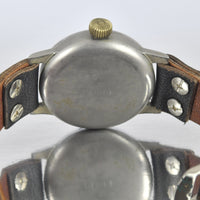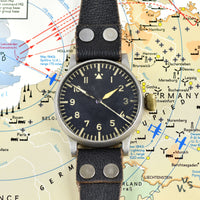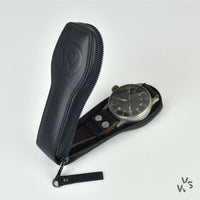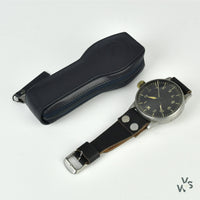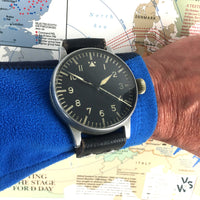 A. Lange & Sohne - Signed Luftwaffe Issued German WWII Type A Observers Watch - Beobachtungs-Uhr (B-Uhr)
Rare, high-quality Beobachtungs-uhren (B-Uhr) German Military Luftwaffe World War Two Wrist Watch - Type A Dial.
Literally translated as 'observation watch,' Beobachtungs-uhren (B-Uhr) timepieces were issued to German Luftwaffe pilots and observers during World War II - regulated and tested to the highest chronometer standards for precise timekeeping.
This watch was usually accompanied by a Luftwaffe Kadlec AK39 liquid compass wristwatch.
B-Uhr watches were all made by one of five manufacturers: four German and one Swiss. This particular piece is signed by 'A. Lange and Sohne,' one of the German makers and a highly regarded watch manufacturer (German Emperor Wilhelm II and Alexander II of Russia were both early customers)!
The huge 55mm cased watch was dual purpose; to allow the watch to be easily read in the dark cockpit of a bomber plane, and to allow it to be worn over the flying suits sleeve for ease of use. It also has a larger than average 'onion' style crown, that also allowed the person wearing it to handle the crown easily whilst wearing gloves. The large black early and original Type A dial with white Arabic numerals further aided precise reading, along with the flame blue sword hands which are coated with luminous material.  
Engraved on the back of the case, you will find the matching movement number 211351 and, inside the case back, the production 'Gerat' number 127-560A-1, generic to all Lange and Sohne watches. Each case had FL23883 engraved on the left side. FL designated Flieger, and 23 identified the watch as a navigation watch.
Total production by the five brands (A. Lange & Söhne, Wempe, Lacher & Company (Laco), Walter Storz (Stowa) and IWC for this type of watch amounted to around 13,500 precision timepieces in total. So no huge quantities of any of the brands were produced and even less will have survived the war. So all genuinely pretty rare watches in this instance. The Lange B-Uhren are equipped with caliber 48 (small seconds) and ours has the caliber 48.1 (sweep seconds) with a movement diameter of 48mm. 
B-Uhr watches are still produced today, continuing the great tradition of precision, quality and bold design set by the original manufacturers. 
What's on offer:
On offer here is a B-Uhr watch with 'Type A' dial (this first batch of this type of timepiece to be made, produced in very small numbers.) A 'Type B' model was later produced (starting in 1941), in much greater volumes.
This rare piece of military history is sold all genuine with original parts, an honest example in excellent condition, given its age. 
We were sold this watch from the family of a British veteran who belonged to a 'communications unit' that toured many military sites across Europe at the close of World War II. He collected many amazing artefacts, including this unusual, rare and much-coveted timepiece. 
Originally worn on a double-riveted, extra-long leather strap to accommodate being worn on the wrist over a bulky flying jacket, this watch has now been paired beautifully with a bespoke strap crafted from vintage black leather. It has recently been professionally serviced and is in full working order. 
Additional information:
Made from
Case: Base metal (anti-magnetic). 
Dial: Black. 
Crystal: Plexiglas. 
Bracelet: Leather strap. 
Technical specifications 
Winding: Manual. 
Movement type: Manual. 
Calibre: 48.1
Purchase details
Condition: Excellent for age. 
Model reference number: FL23883.
Date / Year of issue: World War II era, c.1938. 
Warranty
12 months VWS 
Dimensions
Width (without crown) 55mm
Height (lug to lug) 65mm
Lug width: 27mm
Wrist size: medium - large.