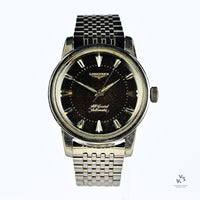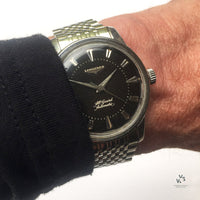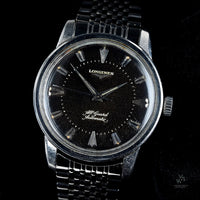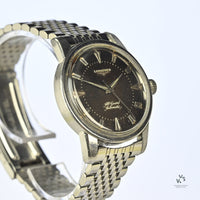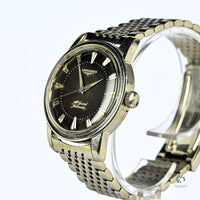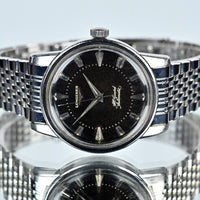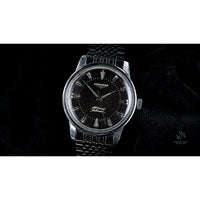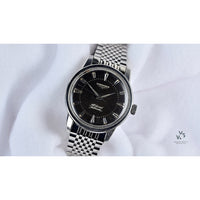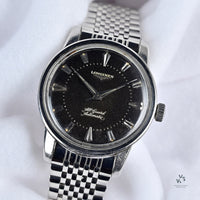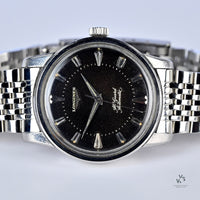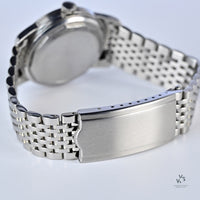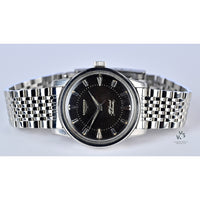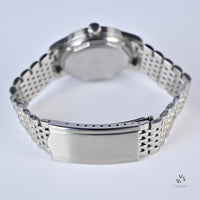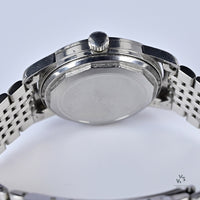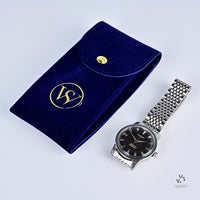 Vintage Longines All-Guard - Black Dial - Model ref: 9006 - c.1952
A Handsome Vintage Longines All Guard Model Ref: 9006 with a Classic Black Dial Boasting Attractive Patina, c.1952
Longines, the renowned Swiss luxury watch manufacturer, has a rich and storied history that spans over 180 years. Established in 1832 by Auguste Agassiz in the small town of Saint-Imier, Longines quickly gained a reputation for producing exceptional timepieces. In its early years, Longines focused on creating pocket watches with precise movements and elegant designs. The company's commitment to quality and innovation led to numerous awards at international exhibitions, solidifying its status as a leading watchmaker.

By the late 19th century, Longines began expanding its reach globally, establishing branches in major cities around the world. During the early 20th century, Longines made significant contributions to aviation and sports timing. The brand became an official supplier for various international sporting events such as the Olympic Games and Wimbledon. Furthermore, Longines played a crucial role in developing navigational instruments for aviators during World War II.

Innovation continued to drive Longines throughout the decades. In 1954, they introduced their first automatic movement watch known as "Conquest." This breakthrough technology marked a turning point in watchmaking history. Over time, Longines diversified its collections while maintaining its commitment to precision and elegance. The brand introduced iconic lines like the "Flagship," "Equestrian," and "HydroConquest" and the All Guard, each representing different aspects of Longines' heritage.


What's On Offer 
This watch is so much more attractive in the flesh, for some reason it hasn't photographed particularly well, but it is in fact absolutely charming! The dial is rich black but with closer inspection under a magnified lens, you can in fact see a beautiful patina evenly covering surface almost like an expensive granite finish! This is likely what the macro lense on the camera has picked up and so it looks rather more grainy than it does to the naked eye! 
The applied arrowhead hour markers, stylish Dauphine hands and applied Longines signature complete a stylish dial design which is encapsulated underneath acrylic crystal and encased in stainless steel. The watch is in fantastic vintage condition and is paired with an unbranded 'beads of rice' bracelet which looks well. This is a striking watch from a prestigious brand which wears beautifully on the wrist and will see the wearer through all manner of occasions. If you would like to see video footage of this watch, please contact us via Whatsapp as it really is worth seeing in the flesh! 
Additional information

Made from

Case: Stainless Steel

Dial: Black
 
Crystal: Acrylic

Bracelet: Stainless steel
Technical specifications

Winding: Automatic 

Movement Type: Mechanical

Calibre: 19AS

Jewels: 19
Waterproof: 

Power reserve: 39hrs

Purchase details
Condition: Excellent

Model Reference: 9006
Date of issue: c.1952
Warranty: 12 Months VWS

Dimensions

Width (without crown): 35mm

Lug width: 18mm

Lug height: (lug to lug) 42.5mm

Wrist size: 195mm (approx)